Moonwalking Shetland Pony Dances His 'Socks' Off In Funny Viral Video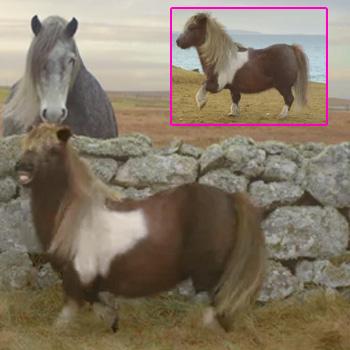 That pony has smooth moves!
A moonwalking horse who would have had a starring role at Michael Jackson's Neverland ranch, if the singer was still alive, has become an Internet sensation around the world, and RadarOnline.com has the video.
The brown and white Shetland appropriately named Socks, can be seen strutting his stuff across the Scottish highlands in a commercial for UK mobile internet firm, Three, and the video has now gone viral – ponying up almost three million views on YouTube already!
Article continues below advertisement
As Socks expertly moves in time to the music as Everywhere by Fleetwood Mac plays melodically in the background, some skeptics have questioned whether his flawless backwards shuffle is computer-generated.
However, Mari Williamson, who co-runs the Benson stud far on the island of Shetland in Scotland with her husband says that the pint-sized horse is simply highly trained and pampered like a movie star thanks to personal hairdresser, Bjoern Larson, who attached 40 plus extension clips to his locks for each day of filming, reported ABC News.
|
|
"Socks is lively and outgoing, who loves attention and I think that's why he was picked to be the center of the advert. It's gone viral now with millions of people watching him but he is blissfully unaware of his fame and is keeping his hooves firmly on the ground," said Williamson.
Fans of the talented equine can build their own virtual version with the Ponymixer app, which allows you to customize your little horse's style – from four-legged punk to furry raver or boy band – with extras like an entourage, flashing paparazzi and screaming fans.