Joe Gorga Confronts Wife Melissa: 'My Parents Look At You Like You're The Devil'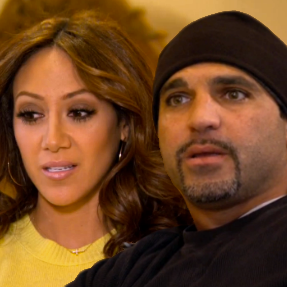 Article continues below advertisement
"I gave her a taste of her own medicine," Melissa tells Joe in a preview of this Sunday's episode.
"Wait, that's serious?" Joe returns, angrily.
"After what happened at Gia's birthday party and what I experienced with my sister-in-law attacking me, I guess I just lashed out on Teresa," Teresa explains to the cameras. "I mean, who can blame me?"
Joe is not happy about this situation.
"I tell her how much I love and respect you," Joe says. "So from now on, you do something wrong, you're my wife, I'm going to educate you, I'm going to tell you you're doing something wrong. You're attacking her."
Melissa defends herself: "It's not even attacking."
But Joe doesn't agree.
"Are you kidding me?" he says. "She talks about the Twitter sh*t. And my parents come to the house and they look at you like you're the devil."
Melissa isn't the only one who gets into a marital discussion this upcoming episode.
In another preview video, Kathy Wakile is dealing with problems in her marriage.
Plus, Kathy's sister Rosie Pierri gets into a shouting match with Teresa.
The Real Housewives Of New Jersey airs Sunday at 8 p.m. on Bravo.