RHONJ Star Melissa Gorga Haunted By Cheating Dad's Car Accident Death: 'He Hit A Tree'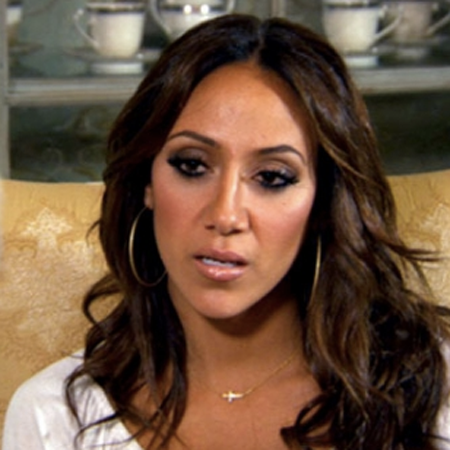 The Real Housewives of New Jersey star Melissa Gorga admitted she's haunted by the death of her father, whose car hit a tree in a shocking accident when she was just 17.
"I was at a friend's house and I got a phone call from my mother," teary-eyed Melissa recalled during Sunday's episode of the Bravo reality show. "And she was screaming and she told me that daddy hit a tree while he was driving on a rainy night and he died."
Article continues below advertisement
Making things even more emotionally complicated, Melissa, who is writing an advice book about how to maintain a sexy marriage, admitted that her father had cheated on her mom.
"I feel like … do I want to say some of the stuff that I went through watching my parents' marriage?" she asked on TV. "I don't know that I want to say, hey, my father was the man that cheats. I loved my dad to death but I'm not going to say he was always the best husband."
Melissa's family drama came out while she talked to Macmillan Publishing agents about her upcoming book with devoted husband Joe Gorga by her side.
RHONJ fans saw Melissa telling the agents, "It was really hard for me. I used to pray at night that I would find a man that would support me the way my father did -- but I wanted a guy to love me and take care of me. Joe reminds me so much of my father and that's why Joe will always have my heart."
Article continues below advertisement
She revealed she wanted to write about "how to achieve a modern and traditional happy marriage," and keep your husband coming home to you.
Joe said it was all about respect -- and SEX! The couple didn't miss the opportunity to diss Joe's sister Teresa Giudice, pointing out it would be an actual advice book, instead of a cookbook, like Teresa had written.
But Melissa broke down in tears during the publishing meeting, telling the group about her dad, "As a provider, he was amazing. My father sometimes would go get milk and come back a couple days later so I grew up having trust issues with men because where did my dad go? I'm really torn because I don't know how deep I want to go with my childhood and my personal life. I don't want to write about some things in my past that were not the best."
Later, Melissa shared with her husband what her dad had written to her in "the only card he's ever given me in my life and he gave it to me on my birthday, like four days before he died."
Melissa told Joe, "It was so weird because he wrote that, 'Even though you are growing up you will always be my little girl and no matter what I'll always love you and be there for you if you need me. I'll always love my baby girl. Your daddy.'"
Article continues below advertisement
"I feel like the way he wrote it is, he almost knew he was going to hit that tree," Melissa shuddered.
"He was such a great father in so many ways but then he has that--how he was with my mother sometimes."
After the emotional confession, Joe encouraged Melissa to write about her father "and the mistakes he made," while she resolved to discuss it with her mother and sisters.
"I used to come home from high school and see my mother curled up in a ball and sitting on her bed crying because she didn't know what to do about him. It takes a toll on you as a young girl to come in and you're like, 'I just want a normal family.'"
Also on the episode, as RadarOnline.com previously previewed, Teresa Giudice and her brother Joe Gorga had a nasty spat at the gym about the family feud that has involved them and their spouses for more than a year.
Tensions were still running high over Melissa and Teresa's hostile run-in during Gia Giudice's 12th birthday party, in which Teresa accused her sister-in-law of not visiting her dad in the hospital. And on Sunday's episode, all hell broke loose after Teresa spotted her brother Joe working out at her gym.
MORE ON:
The Real Housewives of New Jersey
Article continues below advertisement
Teresa walked over to him to break the ice, reasoning that her dad would be upset if they didn't speak. It had been a whole year since the feuding sister and brother had seen each other, and Joe joked that she would drop a dumbbell on him. Although Teresa started off making nice and touching Joe's abs, the meeting soon turned to an all-out battle when she verbally abused his wife for not visiting their father in the hospital -- or at least, not soon enough.
The mad housewife also told Joe that Melissa tweeted crazy things about her, including comments about her and husband Joe Giudice's bankruptcy.
Joe charged that his sister let her husband call Melissa a whore. Although Teresa denied it, Joe exploded, "I'm a man. I respect my wife. I don't call my wife a c---!" Joe said, referring to Joe Giudice's famous insult of Teresa last season.
"How f---ing dare you!" Teresa raged, and then, in a bizarre justification, added, "My husband didn't call me that to my face. He was on the phone with his friend. If he would have said that to my face, believe me, he would've gotten knocked out by me."
Article continues below advertisement
Joe said of Melissa, "She is an angel from God. I love her. I love my children. How does your husband treat your kids? How does your husband treat you? When I go home, I treat my wife like the queen so my sons can see that and we live a wonderful life."
Joe threw shade on his sister's husband: "I don't like 90 percent of what 'it' does.' I can't even call him a man! IT!"
That apparently was the straw that broke the camel's back for Teresa, who said, "I'm done with you!" and then threw a bottle of water at her brother and upended a gym trash can before storming away.
"You're obsessed with my wife!" Joe shouted.
"You're obsessed with my husband!" Teresa declared.
"Don't talk about my wife!" he yelled.
"Go scratch!" Teresa said in her parting words.
"I will scratch! Hasta la vista!" Joe shouted.
Also on Sunday's action-packed episode, Kathy Wakile threw a joint birthday party for her husband Rich and daughter Victoria. With Kathy not speaking to Teresa, she wasn't invited.
Article continues below advertisement
And, as RadarOnline.com has previously reported, Kathy's sister Rosie Pierri started drinking like there was no tomorrow during the party and raged to the other guests that if Teresa didn't want to have anything to do with her family, "I'm f---ing done with her, too! What the f--- did we ever do to her! Take it up the a--, Teresa! That's what I think of her!" Rosie shouted.
In the episode's lightest moment, Jacqueline Laurita visited the gym, where she attempted to do one squat! After the trainer told the exercise-phobic Jacqueline that Teresa had wondered why she was using HER gym, Jacqueline joked, "My Botox face is making a mad face, you just can't tell. Teresa has a Botox face, too."
Jacqueline said Teresa was going to give talks to bridal groups about marriage to compete with Melissa's book.
Which means what we knew already -- the RHONJ feud won't end anytime soon!