The Matt Mess Continues! Former TODAY Intern Responds After Lauer Apologies For Being 'Not Nice'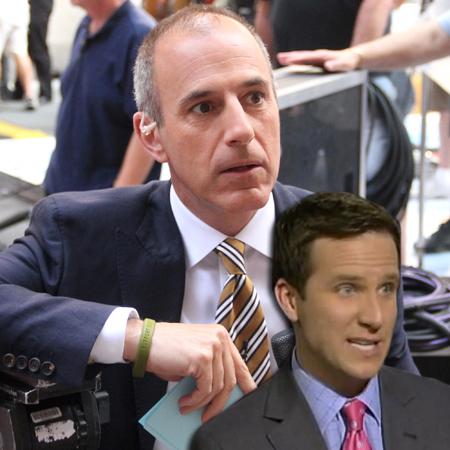 Matt Lauer isn't on the top of many people's Christmas lists, and one former TODAY show intern added fuel to the already hot fire this week when he candidly gave his opinion on the controversial co-anchor.
When asked about his experience working with Lauer in 1997 by current TV colleague Darren Sweeney, Mark Zinni bluntly and honestly replied: "How do I say this….? He was… Not nice."
Now a co-anchor at Fox 8 News in Cleveland, Ohio, Zinni's comments went viral when Sweeney posted it on Twitter – causing his phone to explode with "calls, texts, emails, tweets and Facebook comments from friends who already saw Matt Lauer's response," he revealed on Friday. "Clearly, my tweet had been noticed."
Article continues below advertisement
"@MarkZinni huh? Always tried to be nice Mark. Sorry you didn't think so. Hope you're doing well. Matt," wrote Lauer diplomatically on Twitter.
Rather than sparkling an all- out Twitter feud, Zinni was simply shocked that the TODAY veteran even knew who he was!
"Bottom line, I was shocked Matt Lauer even bothered with me and, really, he remembers me? I'm flattered," he wrote in his response on Fox, denying that he was disgruntled as reported, but revealed that his life had taken a better path since leaving the NBC morning show.
"I am someone who's happy to be working at the best station in my hometown with wonderful people. By the way, Katie and Ann were great, but now I start my day with FOX 8 News in the Morning."
As RadarOnline.com previously reported, the TODAY show ratings continued to struggle this month when it was trounced in the Big Apple yet again by local Fox station Good Day New York.
In March, GDNY had a 9 percent advantage over TODAY in the advertising gold demo of adults 25-54 – beating the ratings challenged program in an impressive 13 out of 20 telecasts.