Lisa Vanderpump Is 'Childish' And 'Afraid Of The Truth,' Slams Brandi Glanville After 'RHOBH' Co-Stars' Ambush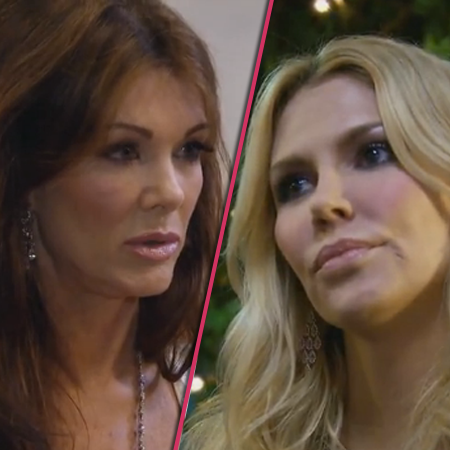 Article continues below advertisement
As fans saw last week, Brandi told Kyle that Lisa had put tabloids containing articles about Kyle's husbandMauricio's alleged cheating into her suitcase – an accusation Lisa and her husband denied.
"They didn't want to have the conversations," Yolanda stated.
"It's very childish to walk away -- and it makes you look guilty, even if you're not," Joyce added.
Meanwhile, Kyle's husband Mauricio Umansky confided to Joyce's husband about Lisa and Ken's "betrayal."
"They claim to be my friend and have my back – but on the contrary, they were doing stuff to cause problems to my life and my family -- that is straight up betrayal," Mauricio said.
"For them avoiding it, that isn't the answer … but you may have your answer," Michael Ohoven added.
Back in Beverly Hills, Lisa poured her heart out to Carlton Gebbia.
"I don't want to be overdramatic and say ambushed or attacked, but that's how I felt," Lisa explained.
Article continues below advertisement
"There was no magazine, or I would have seen it," Carlton stated. "It's ridiculous."
"To deal with this negative, aggressive bulls**t, I'm not going to do it," Lisa told the cameras.
Carlton listened about the nasty confrontation and shakes her head in disbelief, saying that the women act like "sharks that taste blood."
"These women are supposedly your friends and are having a go at you at one time. This is what I cannot stand about insecure women. They say they're a girls girl, and they're not," Carlton said.
Suddenly, Lisa began to cry.
"I feel like everything I say is being questioned. I feel they're all ganging up. It's really hard. I don't want to cry," Lisa said. "I just know I'm being such a good friend. I've always defended Brandi and it has been difficult."
"Brandi prides herself for being brutally honest -- but it's more brutal than honest," Lisa added.
While in New York, Yolanda gets a phone call from Brandi, and they reveal neither has heard from Lisa since she left Puerto Rico.
Article continues below advertisement
"She's someone who can't deal with confrontation. She's afraid of the truth," Brandi said.
"It's such a strange story. We're adults. Who runs away? Lisa is blowing this way out of proportion," Yolanda said. "I'm taking inventory, and I want to know my friends that I'm going to give my time to are my friends."
Meanwhile, Kim and Yolanda had tearful goodbyes when their daughters Kimberly and Gigi departed for college.
"There are so many things I want to tell you," Yolanda told her daughter.
She continued, with tears streaming down her face: "I know you're doing to be fine. I miss you already. I love you."
As Kim said goodbye to her daughter, she began to cry and reflected on her sobriety.
People We Love! Hollywood's Most Inspiring Rogues, Renegades & Rule Breakers
"How grateful I am to be here today to watch her go off to college," Kim told the cameras. "There was a time when I almost wasn't here for this."
"Every day since you've been in my life has been a joy. I love you," she said, hugging her daughter one last time before leaving her on her own at college.
The Real Housewives of Beverly Hills airs Mondays at 8/7c on Bravo.