Lindsay Lohan Says She's Single, 'In A Good Place' With Her Parents Michael & Dina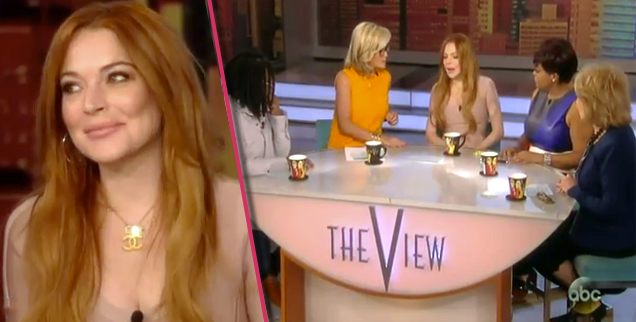 Lindsay Lohan, kept it together co-hosting The View on Friday, coming off as likable, down-to-earth and even a bit shy, locking horns with the fearsome foursome of Barbara Walters, Jenny McCarthy, Sherri Shepherd and Whoopi Goldberg.
The 27-year-old actress, without delving into too many dirty details, said she's doing well these days, and, on the whole, was proud of the no-holds-barred look at her life her OWN docu-drama presented to the public.
Article continues below advertisement
Asked about her love life — specifically, if she was seeing anyone right now — the girl with the star-studded list made clear she's single.
"No … boyfriends have been a distraction for me in the past," she said.
Prodded about her controversial parents Michael and Dina, Lohan said that "everyone's in a good place right now" and that a respite from the folks turned out to be quite beneficial for their unusual family dynamic.
Article continues below advertisement
"I think it was me taking time for me and not getting involved in their affairs … things fall into place like they're supposed to," The Canyons star explained.
One quality family outing came this past weekend at the Coachella Music Festival, where she said she got in some quality time with her sister Ali Lohan.
"It was a really great experience," she said. "A really nice, cool thing."
She also shared how selfies have wound up being a good deterrent for paps to follow her.
"If I do take a selfie and Instagram or Tweet it, there's no reason for them to follow me … the pictures already been taken!"