Lindsay Lohan 'Runs Over' Fired Attorney In Funny Jimmy Kimmel Bit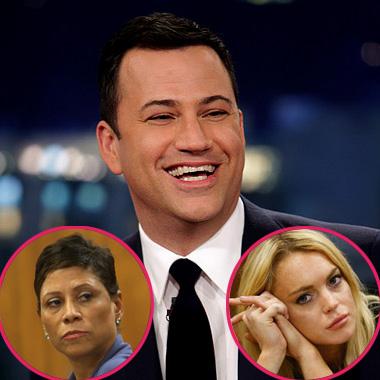 Jimmy Kimmel made fun of Lindsay Lohan's latest legal troubles in a bit on his talk show Tuesday night, and RadarOnline.com has the clip.
In setting up the bit, Kimmel mistakenly said, "Lindsay Lohan was arrested…" before quickly correcting himself to say "was arraigned, not arrested. That's tomorrow… was arraigned on charges of lying to police after a car accident in Santa Monica back in June."
The funnyman then continued to explain that Lindsay did not appear in court, but that her attorney, Shawn Holley, whom Lindsay recently fired, did appear on her behalf and entered a plea of 'not guilty.'
Article continues below advertisement
Kimmel went on to say that Lindsay has spent only 15 days in jail and said, "this lawyer shouldn't be fired, she should get an award.. at least get one of those necklaces or something."
He then tossed to video saying, "I don't like the way Lindsay has handled this."
Watch the video to see what happens next!
Jimmy Kimmel Live airs weekdays at 11:35/10:35c on ABC.
youtube