Recap & Rebuttal: Lindsay Lohan's Unprofessional Antics Wreak Havoc With 'Elle' Staffers, While Her Father Michael Denies Shocking Drug Claims Made In Episode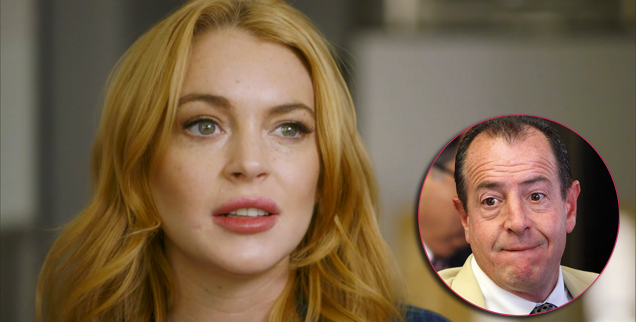 Sunday's episode of Lindsay Lohan's OWN reality series shined the spotlight on three recurring themes we've seen with the actress over the past decade: her gallingly-unprofessional behavior, her battle in staying sober, and the Lohan family circus of pointed fingers and sharp accusations.
Beginning with the severe professionalism issues, the actress' tardiness and diva ways once again took center stage, as she didn't show up for a scheduled fashion shoot time with Elle Indonesia, causing an editor to call her a b*tch behind her back!
Article continues below advertisement
Although Lohan eventually completed the fashion shoot for the March 2014 magazine cover, the star's tardiness proved to be a trying ordeal for the crew. And the episode also recorded her being late for a party she was paid to attend, watching a male friend bizarrely get his ear pierced with a knife, and going into a crying jag while filming herself for the documentary.
On the episode, viewers saw celebrity photographer Eric Silverberg, Elle Indonesia fashion editor Anindita Saryuf, and an entire glam squad wait anxiously for Lohan so the shoot could begin at a New York location house.
But at 3 p.m. — three hours after it was scheduled to start — Lohan's rep arrived and suggested they reschedule, telling the fashion bigwig, "She worked really late and needed to sleep. I'm really sorry."
Lohan's personal assistant Matt Harrell then told the OWN cameras that he couldn't name the "covert" project she had been working on.
Meanwhile, out of camera range — but captured on OWN's audio — Saryuf had a meltdown, fuming to her crew in Indonesian, which was translated via subtitles, "That b*tch, that b*tch, that b*tch Lindsay! I can't do it tomorrow because I have other things on my schedule."
Article continues below advertisement
After calming down, however, the editor agreed with Lohan's rep that they would do it the next day. But the badly-inconvenienced editor sighed on camera, "It's two days flight here. I have to call my boss and let her know."
She added incredulously about Lohan, "And she wants a comeback?"
Lohan later explained to the cameras that she was a night person because of her chaotic upbringing, and she always reverted back to that schedule.
Turning on the cameras to record her own footage, Lohan said she missed her alone time with candles and complained, "I'm starting to get tired again."
But Lohan was apparently also playing with pals instead of going to her fashion shoot! She filmed scenes of her friends dancing in her apartment and commented that it was okay if her friends had a glass of wine in front of her. The just-rehabbed star also claimed she was fine to go out to nightclubs because she liked to dance and didn't need to drink anymore to have a good time.
Article continues below advertisement
Later, Lohan filmed four Russian friends playing a game of "dare" in her apartment, in which a young shirtless man decided to get one of his ears painfully pierced with a knife.
The next day, Lohan finally showed up on time to the apartment in Soho where the fashion shoot was taking place. She laughed about her Russian friend getting his ear pierced with a knife and even showed off pictures of the incident to her makeup artist.
Lohan claimed to OWN that she was doing the shoot just for exposure, not for money.
"It's very easy work," she said.
But Lohan also complained she felt rushed and was bugged that photographer Silverberg was using natural light on a rainy day near the window while fans were taking photos from the street.
"It was a bit uncomfortable," she recalled to the cameras afterwards.
During the shoot, after five wardrobe changes, there wasn't enough natural light left for photos. After Lohan dissed the photographer to her team, she agreed to Silverberg shooting her outside on the street.
Article continues below advertisement
But Lohan went ballistic when a paparazzi appeared out of nowhere and took video of her poses.
"Take the f*cking camera," Lohan ordered assistant Harrell as she leaped into the SUV to go to another location.
Lohan begged her driver to run a red light to escape the pap while Harrell offered the photographer a thousand bucks for his shots. But the paparazzi said, "I'm gonna put it on the news, right now, tonight" and left.
A third day was added to the photo shoot schedule, this time at Lohan's apartment, where once again the crew waited around for the star to be primped while the natural light diminished. By the time Lohan was ready, Silverberg had to rely on lights provided by the OWN crew to get the job done.
Later, Lohan dissed Silverberg's methods while fashion editor Saryut sighed, "She started late so everything has to be changed. We have to think of Plan B which is using light, so it's not as smooth as I want it to be."
Article continues below advertisement
Because Lohan hadn't shown up for the first day, the magazine team had to return all the clothes to the designer; so the actress wore her own clothes for the photos.
"If I could list all the shoots that I should get credit for as 'Co-stylist' it would be a full novel," Lohan boasted to the cameras.
But apparently she wasn't as interested in helping Saryut complete her job as Lohan announced she was leaving when the photos were done — even though the editor needed to do an interview!
As her Russian pals showed up at the apartment, Lohan told assistant Harrell, "Not tonight," regarding the interview.
Watch the video on RadarOnline.com
Saryut told the cameras, "If she wants to continue her career in this industry, she has to change. I wouldn't give her any advice because it's her life and I'm not close to her, but I will give advice to my daughter: 'Never waste your life.' "
Meanwhile, Silverberg just laughed to OWN cameras when asked what it was like to work with Lohan!
Article continues below advertisement
After the shoot, Mackenzie Knight, who claimed he was part of Lohan's crew of sober friends, prepared to go out with the star and admitted, although he was sober for three years, "I had a drink here or there. I haven't been a model AA member."
But that wasn't all that was bizarre about the episode as Sunday's show began with Lohan smoking a cigarette while sitting cross-legged on the floor, looking hard into the camera, and then starting to cry as she filmed herself for the docu-series.
And Lindsay's mother Dina Lohan was also shown browbeating her ghostwriter, Pamela Marin, as she worked on her autobiography.
As Marin prepared to interview Lohan for her mom's book, Dina asked to see her questions — and scribbled out most of them!
Dina told her daughter, "She's got all these questions I don't like."
Dina then she told Marin, "They're just a little tough. I don't want to hit her hard."
Article continues below advertisement
Michael denied his daughter's proclamation speaking exclusively with Radar, telling us he had no idea why she said it, and suggesting that Dina likely kept claiming it happened and eventually, "Lindsay believed it.
"I would never do drugs front of my children — never. Like I said, a lot of things were said and told to the kids that weren't true. The only time I ever, ever, ever did drugs or drank was when I was separated from Dina; I don't think my kids ever even saw me have a drink in front of them."
Article continues below advertisement
She also has issues with Dina, telling her mother, "There were times you said you were going to come and you didn't. I was hanging out with the wrong friends. I needed a mom."
Whipping It Back And Forth! 24 Celebrity Hair Chameleons
Later, Lohan appeared at the Foxwoods Casino Halloween party in Connecticut, collecting a $100,000 fee to show up for two hours, pose for photos, and hang out with boxer Floyd Mayweather Jr.
With her brother, Michael Lohan Jr., providing emotional support — and dressed up as the horror movie character Carrie — Lohan appeared on the red carpet with Mayweather.
Watch the video on RadarOnline.com
However, Lohan, who was running late as usual, fled the carpet quickly.
"I'm having anxiety with alcohol everywhere and I'm not drinking," she told the cameras.
Although she appeared to have shirked her two-hour deal, viewers were informed that Foxwoods said that Lohan fulfilled the contract and paid her the $100,000.