'WWHL' Recap: Lindsay Lohan Denies Partying At Coachella, Slams Rosie O'Donnell, Declares 'Cool Mom' Dina Should Join 'RHONY' Cast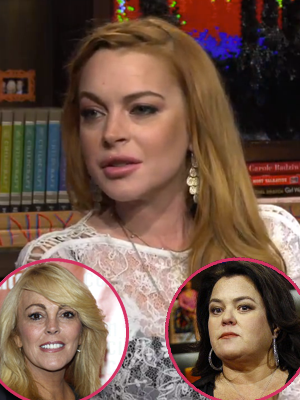 Appearing on Watch What Happens Live Thursday, Lindsay Lohan denied partying at Coachella, slammed Rosie O'Donnell and suggested her mother Dina should join the cast of the Real Housewives of New York City.
The Mean Girls star didn't flinch as they faced questions from Andy Cohen as she about her recent alleged partying. Lohan, whose OWN reality show, Lindsay, has chronicled her tardy and unprofessional ways after she got out of rehab last year, told Cohen the recent speculation about her at Coachella was dead wrong. As RadarOnline.com has reported, sources said Lohan had relapsed, as she was seen downing a vodka soda.
Article continues below advertisement
But when Cohen asked if she had been "partying" at the music festival, Lohan said, "No, I was not."
Watch the video on RadarOnline.com
But bizarrely, she didn't seem upset by the reports, adding, "I was partying in a dancing manner, which could look like anything to anyone, so I get it."
She said of the famed desert rock music fest in California: "To be honest, this Coachella was the best time I've ever had going to Coachella. I'd gone there years when it was a different story. But this was the nicest trip I've ever had with my family.
"I was just with my family the whole time and then I went off on a Sunday by myself and watched Arcade Fire and Beck and it was really nice to be able to do that. I put a hat on and a scarf under that."
And on Cohen's Watch What Happens Live "After Show," Lohan also revealed she even spent some time with Beyonce!
"I actually saw Beyonce at Coachella and I was like, 'Oh, my God, that looks like a fake Beyonce and she was like, 'Lindsay?' and I was like, 'Oh, my God, I just called you a fake Beyonce.' It was so funny."
Article continues below advertisement
Lohan said "we talked about our sisters," i.e., Ali Lohan and Solange Knowles. The Parent Trap star revealed she's helping sister Ali re-launch her singing career while Beyonce's sister Solange performed at Coachella.
But another star is no friend of Lohan's, as Cohen also asked her about Rosie O'Donnell's recent internet comment that her OWN series is, "a tragedy on every level."
"I heard about that and it just seems like she's bored," Lohan sighed. "I don't understand whenever actresses talk nasty about other actresses. I find that to be really sad."
But other web haters have also slammed Lohan -- for having a visible wine bottle in her kitchen during her reality show, and she moaned to Cohen, "Do you think I don't notice those things? Do you think I'm not smarter than this by now? I had a dinner party the night before and I cooked dinner ... and they didn't show this on the show, which is kind of a bummer. I cook a lot on the show. I like to cook at home."
Article continues below advertisement
She said she was fine having alcohol around for other people because otherwise, "I'd lose more than half of my friends, and my family."
Watch the video on RadarOnline.com
But she hastened to add Dina, who pleaded guilty to DWI charges this week, to the boozy roll call, saying, "Except my mom, she doesn't drink."
Lohan staunchly defended her mother against charges that she was always partying with the star.
"That's never been true," she insisted to Cohen. "My mom, if anything, she's gone out with me because I've forced her to come out with me. It's a security blanket. That's my mother. I have a cool mom; she had me at a very young age. Thank God for that, though. She's my best friend."
Lohan -- who first appeared wearing a crown but discarded it, saying, "I'm over it"-- also told Cohen she was a big fan of the Bravo housewives and a member of "Team Lisa Vanderpump." She added, "So's my mom."
MORE ON:
Watch What Happens Live
Article continues below advertisement
And right before WWHL ended, Lohan suggested to Cohen that Dina should join The Real Housewives of New York City!
"I have to say something! Jill Zarin has a message for you -- she said she and my mom should do the New York housewives to bring the ratings back up again."
Cohen said, "Oh, my Lord! That would be quite a show."
Earlier, the 27-year-old star also shared what her own housewife "tagline" could be, walking "the runway" for Cohen and saying, "I'm done with mug shots, and I'm ready for an Oscar" as the audience hooted.
Also on the talk show, with her assistant Matt Harrell tending the Bravo clubhouse bar behind them (although Lohan didn't imbibe), Cohen asked Lohan bluntly, "Why don't you ever wear a bra?"
"I don't like them," she said, but, indicating her white lace see-through minidress with a visible black bra underneath, added, "I'm wearing one right now."
Lohan confirmed to Cohen that she still lived in the apartment viewers saw her move into on the Lindsay docu-series.
Article continues below advertisement
Was she unfairly edited on the show? "To an extent," Lohan told Cohen.
Despite what the OWN cameras showed, for example, Lohan denied she was always late. "No. That is a depiction of the show. Those are the edits that I do not agree with."
When a fan asked if a Mean Girls sequel could ever happen, Lohan shrugged, "Maybe. It would have to be really dark."
Cohen told Lohan that Natasha Richardson, her co-star in The Parent Trap who died in a 2009 skiing accident, had been one of his closest friends.
"She was just like a second mother to me. You're trying to make me cry?" an emotional Lohan responded.
"She was like an angel, like Grace Kelly and Princess Diana. She exuded that. I'm friends with her son Michael Neeson now. It was a tragedy."
Also in her appearance with Cohen, Lohan confirmed that Samantha Ronson was her first lesbian love — but refused to confirm or deny the recent leaked list of her celebrity sex conquests.
Article continues below advertisement
"How accurate was the list?," Cohen pressed her.
"I'm going to get serious for a second …that was actually my fifth step in AA in Betty Ford and someone, when I was moving during the OWN show, must have taken a photo of it so that's a really personal thing and it's really unfortunate," she sighed.
Note: Step 5 in the 12 Steps of Alcoholics Anonymous is when people admit to God, to themselves, and to another human being, the exact nature of their wrongs.
While being vague, Lohan promised Cohen, "I talk about this on the last episode of the reality show so it's to be continued."
Lohan told a WWHL fan of the docu-series, "I don't regret it at all. Producer Oprah Winfrey's been a blessing to me in my life as a friend and a mentor. It's been nice to kind of show who I am as a person so that people can actually see the chaos that comes in and comes out -- and that's life."