Lindsay Lohan 'Had Us Held Hostage' Taping Anger Management Cameo, Charlie Sheen Says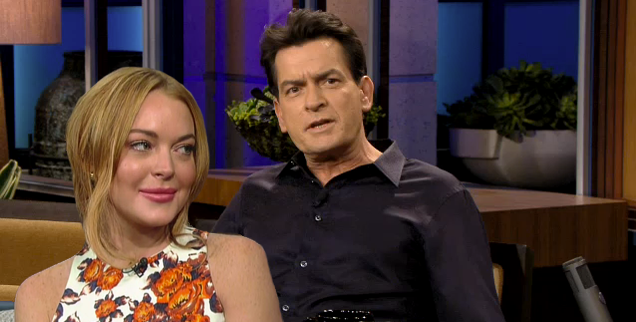 Perhaps now Charlie Sheen knows how Chuck Lorre felt.
After throwing Lindsay Lohan a bone with a role on his sitcom, Anger Management, the mercurial actor took to The Tonight Show Wednesday and dished about the starlet's professionalism -- or lack thereof -- during her time on the set.
Asked if LiLo arrived late, Sheen said, "Not on day one … day one was fabulous. She was on time. Hit every mark. Made us look off our game, which we weren't.
Article continues below advertisement
"And then, um, we had to deal with day two … it was as though she had us held hostage because she gave us half the show … and was a little bit -- four hours -- late. No, she was a couple of hours late. She was really not feeling well. We just worked around it."
"She was late, what can I say!"
The former Two And A Half Men star confirmed reports that LiLo made the set her own personal gifting suite, making off with a few bracelets.
"It's true, but it's not true," he explained. "Nothing further your honor … she borrowed some stuff, and then was told they would take it out of her paycheck, and she said fine, and that's all it was."
Sheen, who's called the troubled starlet "smart and super-talented" in the past, said she did an overall good job in spite of the snafus.
FX's Anger Management airs Thursdays at 9:30/8:30c.