Exclusive
Charlie Sheen's Special Interest In Lindsay Lohan — It's All About Sympathy Not Sex!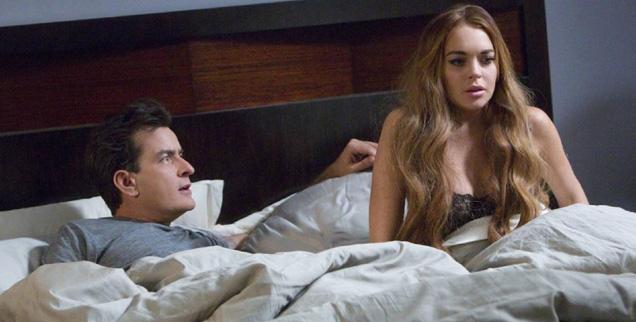 Hollywood tongues have been wagging ever since Charlie Sheen started taking a special interest in Lindsay Lohan, but a source close to the actor tells RadarOnline.com exclusively that he has absolutely ZERO romantic interest in the troubled starlet.
"Charlie isn't romantically interested in Lindsay at all and has no desire to hook up with her," a source tells Radar. "There is no romantic interest at all -- she isn't even his type and the last thing Charlie needs is more drama in his life! He simply feels bad for her and tries to help her out when possible. He had heard Lindsay was invited to the AmfAR benefit dinner and didn't have a dress to wear, so he hooked her up with Phillip Bloch.
Article continues below advertisement
"As for offering Lindsay a guest spot on Anger Management, that was purely done to promote Scary Movie 5 which they both appear in and will be released around the same time episode airs. It's just who Charlie is, he is a very giving person and she isn't the only person he has done this for over the years."
However, it seems Sheen's generosity could be tested greatly by La Lohan! As RadarOnline.com previously reported, Lindsay was accused of destroying the $1750 dress that Charlie hooked her up with.
"She said that the dress had ripped at a club after the fundraiser – she couldn't possibly wear it like that – so her stylist friend went to the club bouncer and requested some scissors to repair the torn part of the dress," a source dished to Us Weekly. "But what bouncer has scissors?"
Instead of finding a safety pin, the source claims that Lohan, chopped it up into her own design.
"She turned it into a mullet! Only a fashiony person would do that! " the source continues. "She's out of control and behaving really badly."
Meanwhile, Charlie has been keeping himself busy and his nose clean!
"Charlie is busy working on Anger Management and just doing his thing," the source says. "He wants to prove to people in the industry that he is a different person than he was from his epic meltdown two years ago. Charlie keeps himself busy....he sees his kids with Denise and Brooke frequently."