Las Vegas Strip Drive-By Shooting Attack On Maserati Leaves Three Dead As Taxi Explodes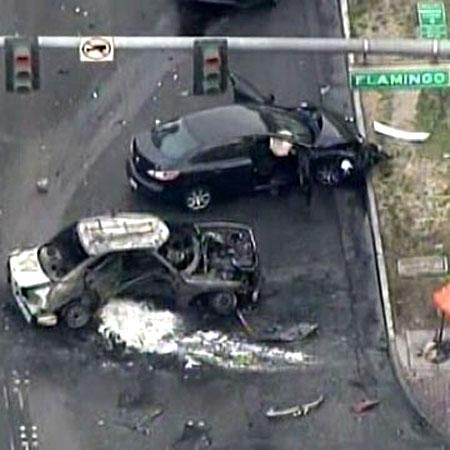 A dramatic drive-by shooting transformed the Las Vegas Strip into a scene from The Fast And The Furious Thursday morning when bullets fired from a speeding Range Rover SUV into a Maserati caused a multi-car accident and car explosion.
The horrifying incident occurred when a group of men in the Range Rover pulled up alongside the sports car at around 4:20 a.m. PT and shot the driver and passenger, according to Officer Jose Hernandez of the Las Vegas Metropolitan police department, reported ABCNews.com.
Article continues below advertisement
The impact of the gunshots caused the Maserati to swerve out of control through the intersection and hit at least four other cars including a taxi that then burst into flames, trapping the driver and his client in the burning wreckage, while the SUV sped away from the mayhem that its occupants had caused.
The driver of the Maserati later died in the hospital, and two more people perished in the taxi fire, while three other victims - including the passenger of the Maserati - who were injured during the shooting and car crashes - are being treated at University Medical Center.
"We're currently looking for a black Range Rover Sport, with large black rims and some sort of dealership advertising or advertisement plates," Officer Hernandez said. "This is an armed and dangerous vehicle."
The motive behind the attack is not yet known, but police are currently scouring surveillance video from casinos on the section of the infamous Strip near Flamingo Road.