Olympic Gymnastic Team's Monster Doc Larry Nassar Claims He Was Framed
Article continues below advertisement
"When an innocent person is forced into a guilty plea, the world is set on fire," the 54-year-old disgraced doctor declared in the handwritten, one-page jailhouse rant.
As RadarOnline.com reported, the manipulative molester, who was already doing 60 years hard time for child porn crimes, made a lame mea culpa in a Lansing, Mich., courtroom before he was slammed with 175 years in the clink for sexual abuse in February — after being bravely confronted by 156 of his traumatized victims.
"For all those involved, I'm so horribly sorry that this was like a match that turned into a forest fire out of control," Nassar said when he entered his plea.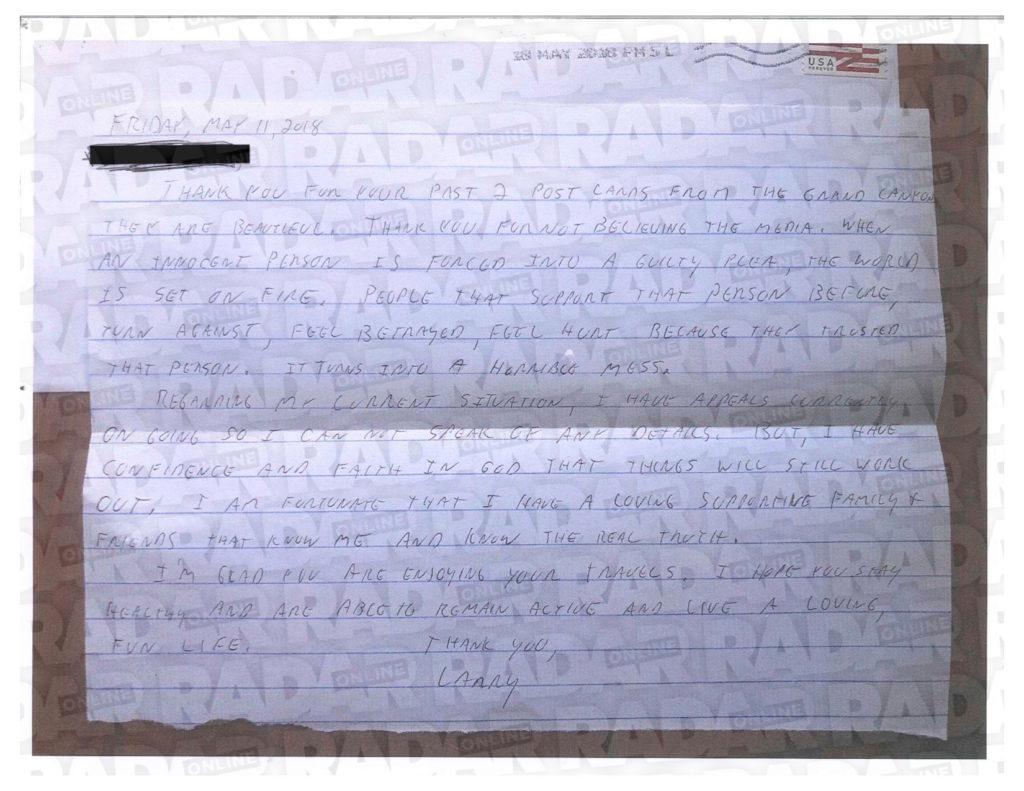 Article continues below advertisement
In a shocking courtroom showdown, dozens of shattered gymnasts, who had entrusted Nassar with their health, lined up to release their fury over the doctor's betrayal before a judge locked him away for life.
"You lied to me and manipulated me. You are so sick," spat Olympic gold medalist Aly Raisman, now 23, at the trial.
McKayla Maroney, an Olympic champ in 2012, said: "He abused my trust , he abused my body. He is a child molester and a monster of a human being. I thought I was going to die."
Nassar's apology in front of the judge seemed to show he wanted to atone for his sins as he insisted: "I have no animosity toward anyone. I just want healing."
But his deluded note shows his hollow words were nothing more than a smokescreen as he desperately attempts to hatch a plan to escape justice.
"Regarding my current situation, I have appeals currently on going so I can not speak of any details," the conniving creep wrote.
"But, I have confidence and faith in God that things will still work out. I am fortunate that I have a loving supportive family and friends that know me and know the real truth."
But RadarOnline.com insiders believe Nassar won't get far in his foolish quest for freedom.
"There will be no mercy for him in prison," said one jailhouse source. "He's a dead man walking."
We pay for juicy info! Do you have a story for RadarOnline.com? Email us at tips@radaronline.com, or call us at (866) ON-RADAR (667-2327) any time, day or night.