Exclusive
Lamar Odom's Ex Liza Morales Reveals She Hasn't Had Sex Since They Split!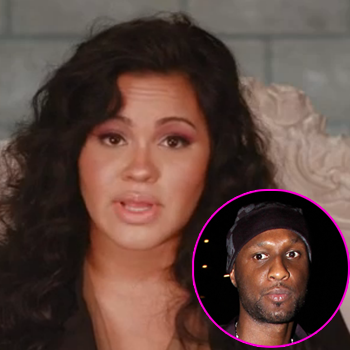 Lamar Odom is happily married to Khloe Kardashian but his ex-fiancée and baby mama Liza Morales hasn't found love again and in a new reality show she admits that she hasn't had sex with anyone since they broke up!
Starter Wives will air on TLC and RadarOnline.com has an exclusive sneak peek of the outrageous six women who used to be married to or dated famous guys, from athletes to rappers, and shows how they're coping since the end of their high-profile relationships.
Article continues below advertisement
Liza revealed the shocking news to the other women that not only has she not had sex since she and Lamar split, but that he's the only man she's every slept with!
"Oh I did not know Liza was a Lamar virgin," Monica Joseph-Taylor, the soon to be ex-wife of Aston "Funkmaster Flex" Taylor, says about her friend.
"I knew she hadn't been with anyone AFTER Lamar but I didn't know she hadn't been with anyone BEFORE Lamar!"
Liza, who has a daughter named Destiny and a son named Lamar Jr. with the Los Angeles Clippers star, explains that she started dating him when she was a young teenager.
"I've known him since I was 14 was with him since we was 16," she said about their dating timeline. "We were childhood sweethearts!"
Khloe and Lamar tied the knot in Sep. 2009, and Liza than admitted that since she split with him she hasn't been intimate with anyone else.
Article continues below advertisement
"It will be four years since I've had sex."
Starter Wives follows Zakia Baum, the ex-girlfriend of Jermaine "Maino" Coleman, Cheryl Caruso, the ex-wife of mobster Phillip Caruso, Josie Harris, the ex-girlfriend of Floyd Mayweather, and Tashera Simmons, the ex of Earl "DMX" Simmons and will premiere on TLC Tuesday, January 29 at 10 p.m.
RELATED STORIES:
Buy My Used Bra! Khloé Kardashian Selling Old Underwear On eBay