Kris & Bruce Jenner's Separation: 7 New Developments In Shocking Split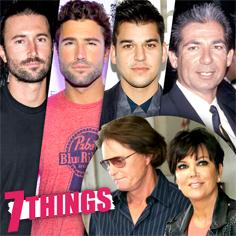 Kris and Bruce Jenner's shocking separation after 22 years of marriage still has many of us picking our jaws up off the floor, and RadarOnline.com is right on top of this sizzling story, so without further ado, here's seven new developments in Kris and Bruce's separation.
7. Godmother Chimes In
Kathie Lee Gifford, a close family friend who's godmother to Kendall and Kylie, gave her take on the split, saying that it was a "long time" in the making, and that the couple has been "under such unbelievable pressure" because they've got "so many things going on." She said on TODAY, "The last time I was at Kris' house, if you walked through, in every different room of the house, somebody was meeting with someone about a new deal. If it's always about the deals, and you can't find your husband in your house or your wife in your house, or your kids, because there's so much going on, it's just gotten out of control."
Article continues below advertisement
Visit NBCNews.com for breaking news, world news, and news about the economy
6. Reunited & It Feels So Blah …
Khloe Kardashian's crumbling marriage to Lamar Odom took a backseat to her mother's relationship woes Wednesday, when the fashionista and her estranged spouse were spotted together for the first time in 129 days while traveling the the family compound in Calabasas, Calif. Lamar then departed for a cross-country flight to New York to visit two of his children.
5. Jenners Jumping for Joy
This is one that comes as little surprise: According to online reports, Bruce Jenner's sons with Linda Thompson, Brody and Brandon, are over the moon regarding their father's separation from Kris, who garnered the nickname "Step-Monster" after the boys blamed the "Momager" for years of estrangement from their Olympian dad. The bad blood, in particular between Brody and Kris, was examined on Keeping Up With The Kardashians, with Brody often passively encouraging his father to do what he wanted to, regardless of the eventual arguments with Kris said actions could incite.
Article continues below advertisement
4. Rob Paints Rosy Picture
Rob Kardashian Jr., speaking with ET Wednesday, said that the family is staying positive through the tough time, adding that, "even between my mom and Bruce there's no negative, bad blood -- I don't think they can be in a happier place right now." Always loyal to his step-dad, Rob told the show that Bruce has "been in my life since I was 2 years old and that will never change, and same obviously with my mom … same with my sisters, there's no bad blood."
3. Buyer's Remorse?
Here's a soundbite you wouldn't have expected last week: Kris, speaking with New You magazine, said she regrets her split from late legal great Robert Kardashian. She said, "The one regret, if I had to do it over, would be divorcing Robert Kardashian. But then there wouldn't have been Kendall and Kylie, so that's the way I look at that. I don't have a lot of regrets." Kris and Bruce wed in 1991 -- the same year she divorce the O.J. Dream Team member -- after less than a year together as a couple.
Article continues below advertisement
2. Cracking At The Seams?
Caught by paps golfing in Thousand Oaks, Calif. Wednesday, the normally mild-mannered Bruce seemed to be showing signs of strain as he ordered paparazzi photographers away, yelling, "Get the f*** out of here!" and calling them "bottom feeders." In a dubious sign of family unity, Bruce and his teen daughters Kendall and Kylie even flipped the paps off in unison at one point.
1. Nothing To See Here, Folks
A much calmer, collected Bruce downplayed the turmoil in his marriage to People, declaring that he and Kris, 57, are both happy, that "there's no animosity," and that "nobody is filing for divorce." The 63-year-old told the magazine of the separation, "Kris has her own place and I have my own place." Asked if he plans on dating anytime soon, Bruce laughed it off, saying "No! We're not going there. I have my family, I have my kids. All my time is filled."