Kourtney Says Kids Will 'Never' Be 'Alone' With Corey Gamble After Heated Fight
Kourtney Kardashian is not leaving her kids alone with Corey Gamble after their heated fight about parenting.
On this Sunday's Keeping Up With the Kardashians episode, Scott Disick yelled at Corey, 38, during a family dinner at Nobu gone wrong. After Kourtney, 40, announced that daughter Penelope had scratched her nanny's face, prompting the staffer to quit, Corey shocked everyone by saying that if the 7-year-old scratched him, he'd "whoop her a**."
Article continues below advertisement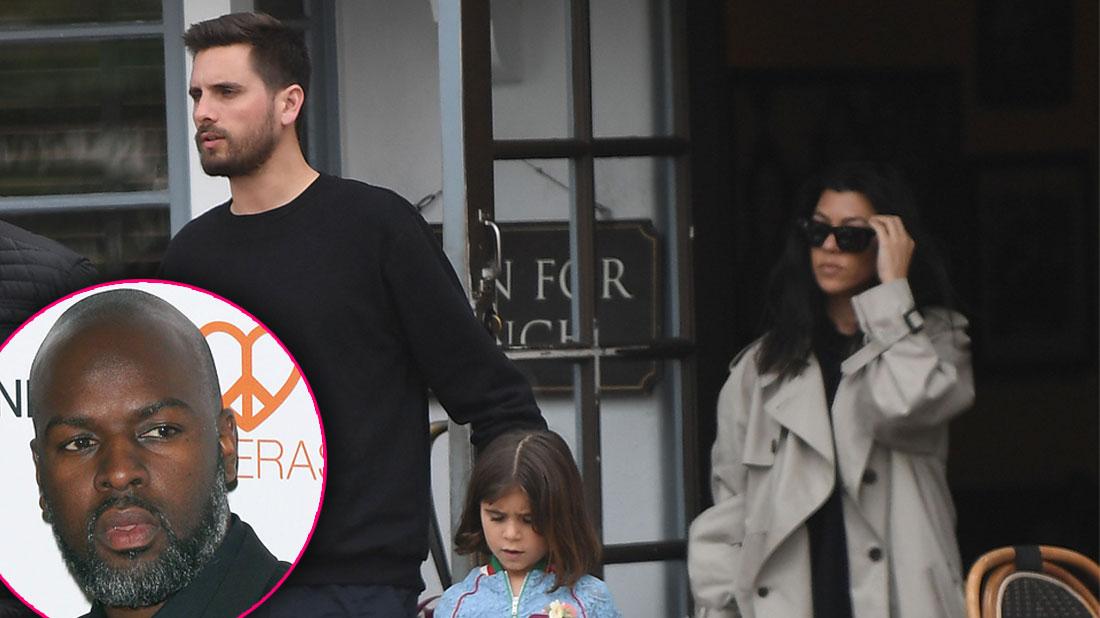 "You're not going to beat my little daughter! Get the f**k out of here," an angry Scott, 36, told Kris Jenner's boyfriend.
"Don't ever talk about a child like that!" yelled Scott.
"Motherf**ker, what you talking about?!" replied Corey, standing by his comments.
As the men continued to argue, Kourtney too began to get heated.
"If your kid scratched me in the face, you don't think they deserve to be popped?" asked Corey.
"Not at all," Kourtney shot back.
Eventually both Kim Kardashian and Kris, 63, tried to ease the tension.
"I don't think he's meaning like beat her," Kim, 38, said.
"Yes, he does mean that," Kourtney replied, defending her baby daddy.
Kris then told her eldest daughter that despite Corey's aggressive remarks, he would never actually hurt Penelope.
"Because he will never be with my kids alone and if he does that in front of any of us there will be a f**king issue!" said Kourtney.
Article continues below advertisement
With that, Kourtney, Scott, Kim, and Jonathan Cheban — who was also present during the drama — got up from the table and left. Kris, meanwhile, stayed put with her man. As her angry family members strutted off, she wiped tears from her eyes, clearly upset by the fight.
RadarOnline.com readers know Corey has not always gotten along with Kris's kids or their significant others. And thanks to his latest parenting comments, he's even more at odds with the Kar-Jenner crew.
Later in the episode, Kourtney and Corey met up to try and talk things out.
"We are never going to agree," Kourtney told Corey while at Kim's house. She added that despite their differences, she didn't want to stop bringing her kids over to the momager's house "because I feel uncomfortable" with Corey.
Corey assured her he would never try "to discipline her kids" in any way.
"I understand how Kourtney and Scott feel but I can say what I want to say because that's my opinion," he said in confessional, adding that he hopes "everyone can move on" from the disagreement.
Keeping Up With the Kardashians airs Sundays at 9:00 p.m. ET/PT on E!.