Kim Kardashian's Fame Is Getting To Him: Kanye West RANTS About Hating Photographers & Fame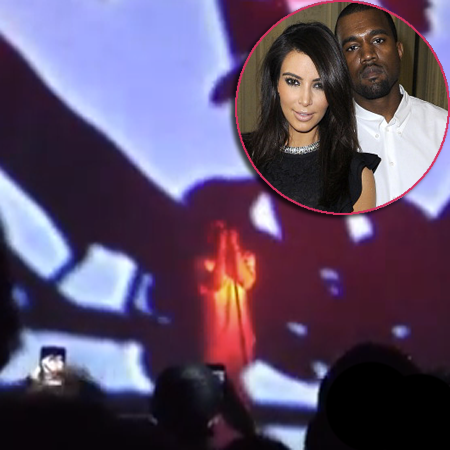 Kanye West was already quite famous when the Kardashian name was still primarily associated with the O.J. trial, but the A-list rapper is clearly not comfortable with the newfound attention he's gotten as Kim Kardashian's baby daddy-to-be.
The outspoken musician railed against his newfound attention from the tabloid media -- and especially the paparazzi -- at New York's Roseland Ballroom Wednesday night, where he performed in an unadvertised show Adult Swim's upfront.
Article continues below advertisement
The Stronger singer let loose his anti-fame rap in between songs of his lengthy set.
He said (in rap form): "I don't know if you know there's one thing about me, but I'm not a celebrity … I don't know if you know there's one thing about me, but I'm a terrible, terrible celebrity.
"I don't know if you know there's one thing about me, but I'm the worst kind of celebrity ... because I only make real music ... I'm only up in the studio to make real sh-t ... I don't want nobody coming up to me with cameras and sh-t ... selling pictures to a f***ing magazine ... asking me dumb f***ing questions ... because I'm not a motherf***ing celebrity."
He wrapped up saying that he only makes "music that inspires you to be the best you can be -- and I don't want anyone to ask anything else of me."
Watch the video on RadarOnline.com ( WARNING: Video contains profanity!)
The rapper and socialite have been seeing one another since March 2012; news of Kim's pregnancy leaked during Kanye's concert at Atlantic City's Revel Resort in Dec. 2012, when the rapper called Kim "my baby mama" during the show, and proclaimed, "Now you having my baby!"