Kim Kardashian Confirms Pregnancy: 'We Feel So Blessed'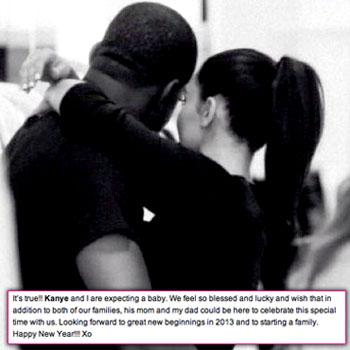 By Amber Goodhand - RadarOnline.com News Editor
Kim Kardashian is having a baby with Kanye West and confirmed the news on her personal blog saying the couple feels "blessed" to be pregnant.
"It's true!! Kanye and I are expecting a baby. We feel so blessed and lucky and wish that in addition to both of our families, his mom and my dad could be here to celebrate this special time with us," Kim wrote on Monday morning.
Article continues below advertisement
"Looking forward to great new beginnings in 2013 and to starting a family. Happy New Year!!! Xo."
As RadarOnline.com reported on Sunday night, Kim, 32, is 12 weeks pregnant with Kanye's child — despite still technically being married to her estranged hubby Kris Humphries.
"Keeping secrets is hard with so many family members! Especially when you are so freaking excited!!!!! LOVE is everything!!!!" Kim's sister Khloe Kardashian tweeted when the news broke.
Kourtney Kardashian, who has two children of her own, tweeted, "Been wanting to shout from the rooftops with joy and now I can! Another angel to welcome to our family. Overwhelmed with excitement!"
But it was Kanye himself who first announced the baby news at his concert in Atlantic City on Sunday night in front of more than 5,000 concert-goers shouting, "Stop the music and make noise for my baby mama…now you having my baby!"