Awkward! Kim Kardashian Celebrates Lavish Engagement To Kanye West... While Scott Disick's Mother Is Dying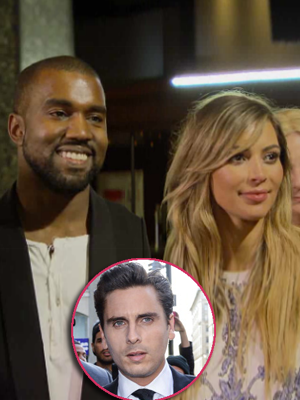 Article continues below advertisement
As the show opened, Scott was dealing with his mother's illness and baby mama Kourtney Kardashian said of Bonnie,
"She's so lovable and sweet. He's handling it the best that he can."
Revealed: 35 Secrets The Kardashians Want Hidden
Scott also indicated he was concerned that his father Jeffrey, a diabetic, wasn't taking care of himself.
"For a long time, my father's been sick and out of shape," Scott told E!'s cameras. "I kind of knew my father wasn't going to live terribly old, so it's a really huge shocker to me to find out my MOM is sick.
"It almost doesn't feel real because never once did I hear anything about my mom."
Scott revealed to the family that Bonnie's liver had shut down and when she had gotten to the emergency room, had to be put on a respirator.
They Really Did Say It! 50 Outrageous Kardashian Quotes
While Scott went to visit his ailing mother in New York, the Kardashians and their close friends boarded a private plane to San Francisco to go to AT&T park, where Kanye was going to propose to Kim -- only momager Kris Jenner knew the secret, however, that this was no ordinary birthday party.
Article continues below advertisement
But the rest of the gang, especially Khloe, suspected what was going to happen!
Although Scott had told Kourtney not to accompany him to New York, saying he wanted to be alone with his parents, she admitted while on the plane that her mind was totally in another place.
In a phone call to Kourtney, Scott, an only child, sighed, "My dad is not in good shape. He hasn't been on his own ever. She's been taking care of him for 40 years!"
Scott said of Kim's party, "I'm sure I will miss out on something that's unforgettable ... but my mom needs me more than ever."
Then the cameras cut back to a gleeful Kris, saying in a confessional segment, "Tonight is going to be so exciting. And after they find out what's really going on, it's going to mean even more!
"I know first hand the real Kanye: He is a sweetheart with a huge heart for everyone that he loves. He's so many things that I don't think a lot of people really get a chance to see. He's the best guy to my daughter and really has her best interests at heart."
Article continues below advertisement
Meanwhile, in New York, Scott was arguing with his dad about how he had a bad diet that raised his blood sugar level.
"You know you're not supposed to be eating hamburgers, you had a heart attack," Scott said.
"Is red meat so bad?" Jeffrey asked.
"How come you didn't show up on time to order me lunch?!"
Scott said he arranged to have healthy food delivered every day but "they said, 'Your father won't eat it.' It's not going to be hamburgers and hot dogs!"
Jeffrey replied, "I know, but the stuff they gave me last time was s***."
Scott also argued with his dad about his behavior towards his ill mother.
"You've got to set a good vibe in mom's room," he said. "You're yelling, 'Wake up!' She just had a seizure. She's obviously sedated."
In a speakerphone call with Scott's friend, Chris Reda, Jeffrey said of his wife, "She took a turn for the worse. It's a roller coaster ride!"
Article continues below advertisement
Back at surprise party central, Kim texted Khloe that she was sick and didn't want to come to San Francisco, but the group didn't panic.
Kourtney then revealed that Scott's mom had had a seizure.
"Oh, no!" Kris said.
The "Momager" told the cameras, "Hearing that Scott's mom had a seizure makes me want to burst into tears, but I know I have to keep it together and be in the spirit of Kim and Kanye today and keep Bonnie in my prayers"
So it was a case of the show must go on as the family boarded a party bus which they soon found out was headed to the San Francisco Giants' home, AT&T park.
Greeting them at the stadium was Kim's best friend Alison Statter and famed jewelry designer, Lorraine Schwartz.
"I have butterflies in my stomach," Kris confided to the cameras, well knowing what was going to happen next.
Kanye's "team" was also in place, warning orchestra members on the field that roman candles would go off behind them.
Article continues below advertisement
Kardashian friend Anthony Schiller directed everyone into team dugouts to hide out until the magic couple arrived.
Khloe said, "I couldn't have written this better" as the couple arrived in a darkened stadium, and Kim's blindfold was removed.
As Kim and Kanye walked out to the field, as fans already know, fireworks went off and the orchestra played.
Khloe knew what was up and said, "I'm gonna cry. This is a movie."
"I just want you to know ... " Kanye told Kim before dropping to his knees and saying, "You want to know what? If you'll marry me."
"Of course!" Kim said as her family gasped behind the scenes.
"I can't believe this is happening," she told Kanye, giving him a big kiss after he presented her with the diamond ring.
Kim told the cameras, "The fact that Kanye has thought this out so clearly and perfectly. You can just feel how special this is."
Article continues below advertisement
It got even more special for Kim when, as was reported months ago, her entire family then poured out of the AT&T Park baseball dugouts to share the moment.
Kim told her sisters, "He said, 'I love you so much'. I'm like, wait, is this really happening? I was shaking."
Kourtney briefly filled in Kim on Scott's family situation.
"I'm going to call and share with him the news," Kourtney said in her confessional segment.
Kris hugged Kanye and wouldn't let go.
"He's mine now!" she told onlookers about her soon-to-be superstar son-in-law!
And incredibly, after the proposal, Kanye almost seemed to be explaining to Kim why the 15-carat diamond ring wasn't that big!
Kim said, "It's the perfect size for my hand!"
Kanye said, "I actually preferred to get a smaller stone that was flawless than some of the bigger options."
Kim assured the rapper, father to their daughter, North, born last summer, that it was perfect!
Article continues below advertisement
"See how it floats," Kanye smiled.
Jeweler Schwartz described how she and Kanye were up all night fussing over the mounting of the ring.
"It's the most beautiful thing I've ever seen," Kim confided to E!'s cameras. "Kanye really outdid himself."
After Kris and Khloe made speeches praising Kanye, the rapper was given the mic -- but all the normally-outspoken hip-hop maestro could say was "I love you."
Kim said, "I didn't see one sign of this happening. It was the surprise of a lifetime."
But then, the cameras turned back to Scott, who called Kourtney and told her he'd talked with the doctor.
"Her blood's not doing great with her kidneys, so they're giving her dialysis and checking her brain," Scott sighed.
"My dad's doing way worse. I just don't understand the diet stuff and I feel like he's at home eating God know's what. I don't know how to get this guy back under control."
Scott also said in a segment, that with the stress of both parents going downhill, "I'm trying to make sure I don't f***ing jump off a ledge."
Article continues below advertisement
Later, teary-eyed Kourtney got another sad call from Scott, who was talking about caskets, as the TV star had lunch with her friends.
And the rest of the family went to Kanye's concert in Las Vegas for one last big hurrah before Kim joined him on tour.
The family danced during Kanye's expletive-laced rap concert, as Kris told Kim how much she would miss her back at the family home.
"We'll be back for a few more months," Kim told Kris.
Suddenly, Scott showed up at the concert, startling Kourtney.
"I think he just needed to be out of New York for the night," she said as Scott joined her in the audience.
Reflecting on her engagement and Scott's tragedy, Kim said, "Life throws you happy moments and sad moments ... I'm so happy to have Kanye to share my life with."
Watch the video on RadarOnline.com
In a tribute at the episode's end, E! let viewers know that Bonnie died the day after West's concert -- with Kourtney and Scott by her side.
As RadarOnline.com readers know, Scott was also right to have worried about his father, as just a couple of months after the death of his mom, Jeffrey Disick also passed away.