Normal Or Not Normal? Kim Kardashian Says She's 'Obsessed' With Amanda Bynes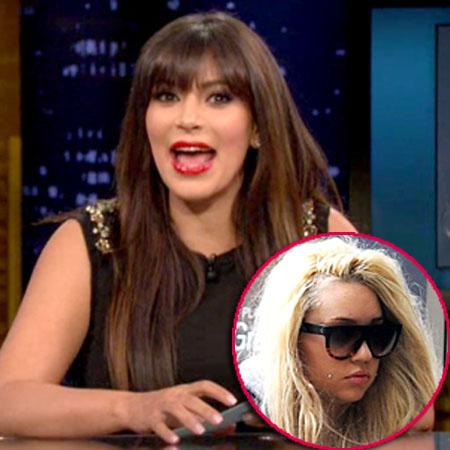 Amanda Bynes' persistent bizarre behavior may be confusing to most people, but it's not to E! star Kim Kardashian.
During an appearance on Chelsea Lately Monday night with sisters Khloe and Kourtney along with their momager Kris Jenner, the pregnant reality star gushed over the ex-Nickelodeon actress' shocking transformation.
And Bynes, 27, responded to Kim's words via Twitter on Tuesday!
"So Amanda Bynes is apparently continuing with her public breakdown," Kris asked the Chelsea Lately panel of her daughters, imitating host Chelsea Handler's trademark opening.
Article continues below advertisement
The 57-year-old Keeping Up With The Kardashians star then proceeded to read some of Bynes' recent Twitter rants.
"I'm suing every blog saying I was kicked out of gymnastics. What is wrong w/ u people? What would u do if u found fake stories about u?" Jenner quipped.
"Well, Amanda, welcome to my world," Kris said, as the crowd erupted in laughter.
"Am I the only one that is obsessed with her new makeover?" Kim chimed in. "I think she looks amazing. With the blonde hair and those nails?"
"With all those extensions and makeup, you would think she looks hot," Khloe added. "She does wear fishnets to the gym, I don't think that's abnormal. I love it."
"I can't make fun of her wearing fishnets to the gym, because this is what I used to wear to the gym in the early nineties," Kris added, showing an aerobics photo of herself and her husband, former Olympian Bruce Jenner.
Bynes took to Twitter to share her joy at becoming a late-night talking point, but complained about the photographs E! flashed across the screen during the segment.
Article continues below advertisement
"I love the beautiful Kardashian sisters!" she Tweeted.
"I wish E picked better photographs of me! I feel pregnant when I'm fat! I'm working out constantly!"
In addition to her dramatic "makeover," Bynes has been engaging in all sorts of bizarre behavior after numerous run-ins with the law, including posting provocative tweets proclaiming "I want @drake to murder my (lady parts)" - and piercing both of her cheeks.
Do you think it is strange that Kim is "obsessed" with Bynes' new look? Sound off in the comments below.