Dog-Mad Daughters Win A Puppy From Reluctant Dad After Earning A Million Facebook 'Likes'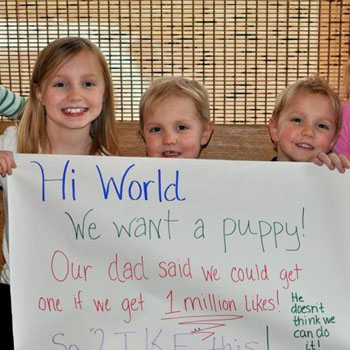 The plea, "Daddy, please can we have a puppy!" rings out in the ears of parents around the world, and one father's joking response backfired on him when his kids stepped up to his tough challenge!
Ryan Cordell, of Boston, Mass., told his two eldest daughters on Tuesday night that if they managed to get a million 'likes' on Facebook then he would reward them with a new dog, reported Good Morning America.
Article continues below advertisement
Clearly underestimating the power of social media – and the ability of his children to pull at the nation's heartstrings - the father of five thought he was safe from any pet-owner responsibilities since their beloved family dog died of cancer last August.
"We thought it'd top out at maybe 2,000 people," revealed his wife, Evie.
Oh, how wrong they were!
Within 24 hours of Cadence, 12, and Emerson, 9, creating the Facebook page, Twogirlsandapuppy they had already hit 1.2 million likes – and the total keeps on rising.
"We're two sisters who want a puppy! For those that are curious if we make it our new puppy will be a rescue either from a local shelter or a local rescue organization," wrote the persistent pair while holding up a sign displaying their heartfelt request.
The sisters were inspired to place a bet with their dad after hearing about a family in nearby Newton who got a pet cat thanks to a successful Facebook campaign.
Article continues below advertisement
"They were joking with my husband and said, 'What if we got one million likes?' and my husband was like, 'Sure,'" Evie recalled.
Now having to eat a very large slice of humble pie after being proved wrong, Cadence and Emerson's parents are scouring animal shelters and Petfinder.com looking for a suitable dog for the delighted girls and their three younger brothers.
"Mom here -- We are researching various rescue groups in our area. We are definitely rescuing not buying. We don't want to make the wrong decision so give us a little bit of time," Evie wrote on the latest update on the page.
"We think we are going to look for a black lab or golden retriever mix. We promise we'll post pictures and let you all know the rescue organization that we'll be working with."
The family may end up with more sets of paws than they bargained for as the business-savvy girls now are arguing that they deserve an extra dog for every million mark they reach, "which is not going to happen," said mom firmly.