Kathy Wakile On Giudice-Gorga Family Feud: 'We've All Played A Part In It'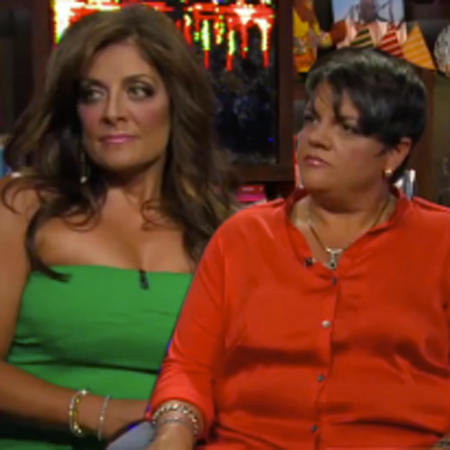 Article continues below advertisement
Her sister, Rosie Pierri, who also appeared on the talk show, agreed, saying, "Tempers get hot but we all love each other and it's about love. When you get hurt by family it hurts the most and you blow up. No one's the right one and no one's the wrong one. It's just what it is."
What it is is explosive, as viewers saw Sunday night. During the RHONJ episode, Joe Gorga charged at Teresa's husband Joe Giudice, starting an all-out brawl at a family healing retreat before Bravo cameras faded to black. It's the latest battle in months of family warfare that mostly involves Teresa's feuding with her brother over her sister-in-law, Melissa Gorga.
Will the troubled family members mend fences? Spilling the beans a little, Rosie said of the retreat, "I think it was successful even though we had to go through some bumpy roads."
Andy implied fans will need to fasten their seat belts for more: "The next two are two of the most powerful episodes in the history of all the Real Housewives, of any franchise -- unbelievable."
The fight started after Joe Gorga called his sister Teresa "scum." And Kathy said she had told Joe during the just-aired episode that he shouldn't call his sister that, "because this retreat wasn't about that. It was about healing and I know that he was going to feel bad afterwards, it was an impulse thing and I knew it was going to go nowhere fast and it did. I know he doesn't mean those things"
Article continues below advertisement
Rosie said about the battle of the Joes, "It was going to pop then or pop later on. It's inevitable. There was a lot of stuff going on and you know what? It's okay. People fight and hopefully you work it out."
Pugnacious Joe Giudice is sure to stir new disapproval with his insensitive comments about Jacqueline Laurita's son Nicholas' autism on Sunday night's RHONJ episode but according to diplomatic Kathy, he didn't know what he was saying.
"I don't think that he knows enough about it," Kathy told Andy. "Like he said, 'I'm not a doctor. I shouldn't really make those comments.' I think it was just speaking out of not knowing."
During lighter moments on Sunday's Watch What Happens Live, fans called in with questions about the two sisters' appearance. A RHONJ viewer asked Rosie why she was dressing "like Barbara Bush" this season.
Rosie laughed and said, "I always like to dress nice but I recently lost a few pounds and I'm able to go and get some nice clothes. No one knew me 20 years ago -- I was really thin but what happens, you get lazy, you plump up. Now I'm slimming down and watch me next year!"
Article continues below advertisement
Andy also asked Kathy if something had changed in her face, hinting at plastic surgery, but Kathy said "No. No!"
Kathy, who makes cannoli professionally and just landed a cookbook deal, showed off enormous breasts in a tight dress, but also dismissed the boob job implication.
"I put on weight. I got the big fat a**. I've got big boobs, too," Kathy said.
Rosie -- who took part in a silly "Find the cannoli game" -- during Andy's show, also revealed what she did for a living.
"I'm an industrial designer, doing design and engineering for the retail industry. All the stores that you go to every day, and you're picking up a sweater? I made that table that you're picking up that sweater on."
The openly-gay reality star said she has never met the other Rosie, Rosie O'Donnell, but they've had some friendly contact.
"I've never met her in person but she's tweeted to me. We've tweeted back and forth and she's really cool and I love her. I'm a big fan of hers."
As far as the housewives, though, Rosie admitted the one housewife she'd like to go on a date with is Sonja Morgan of The Real Housewives of New York City.
Watch the video on RadarOnline.com
Watch What Happens Live airs Sunday through Thursday on Bravo at 11/10c.