Julianne Hough's Family's Bizarre Favorite Topic Of Conversation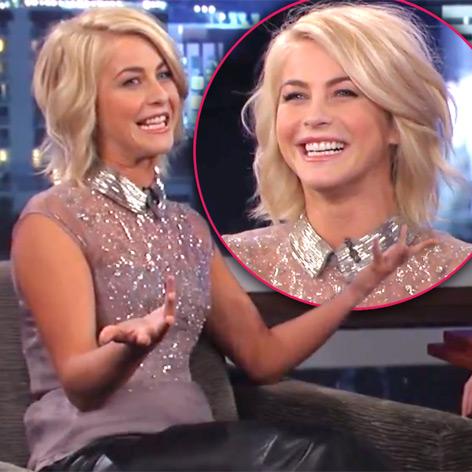 Julianne Hough, appearing on Wednesday's edition of Jimmy Kimmel Live, explained the unique dynamic between her boyfriend Ryan Seacrest and her very large family, as well as the family's unique choice of coffee table discussions.
"When the Houghs get together, everybody talks," the Footloose star said, adding her boyfriend -- one of the world's most successful professional communicators -- "can hardly get a word in edgewise when everyone is around."
Article continues below advertisement
The Rock of Ages star, who's the youngest of five siblings, then dropped the bomb that "every conversation with the Houghs ends up with us talking about vaginas somehow!"
Kimmel cracked back, "Well I'd like you to think of me as family: Let's talk about vaginas!"
The Salt Lake City native, 24, said that Ryan, who's often present at Hough family gatherings for the randy discussions, is also close with her brother, Dancing with the Stars pro Derek Hough.
"They're great, they're good friends and I'm good friends with Ryan's sister," she said, adding that Ryan "gets a little overwhelmed" at times with her abundance of relatives.
"He has five people in his family and there's 200 people in my immediate family … there's a lot of action happening!"
Watch the video on RadarOnline.com
Julianne's new movie Safe Haven opens February 14.