Joyce Giraud: Brandi Glanville Doesn't Need Rehab -- She's Just Tacky!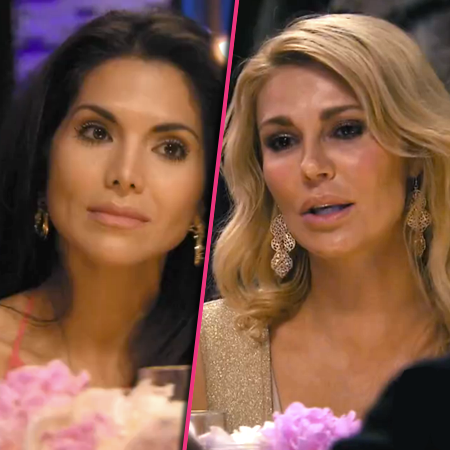 Article continues below advertisement
"I'm depressed. You just don't get it," Brandi sobbed to her co-stars during the "dinner party from hell."
"Brandi is about to implode and it's not pretty," said Yolanda Foster, sticking up for her co-star. "It needs to explode to get better."
"For her to attack me is very unfair," Joyce told Lisa over the dinner, as Brandi rushed away from the table in tears.
Yolanda and Lisa continued to skip up for Brandi, even after she jumped in a limo home.
"She put her best foot forward and is a beautiful person," Yolanda said. "She is a loyal friend and an honest person."
Joyce's husband continued to slam Brandi.
"I've seen a mean person," he told the table before turning to the cameras, adding: "What we witnessed was a train wreck-- and it will derail again."
Joyce added, "Who am I to not forgive Brandi for being a stupid little b----!"
After sobering up after the tumultuous dinner, Brandi meets with Yolanda and admitted she felt "ganged up on" and opened up about her struggles with depression.
Article continues below advertisement
"I know the beautiful person you are," Yolanda told a frustrated Brandi. "I think you've had so much hurt that you've built up a defense mechanism against people. Last night was not charming. You can't keep doing that."
"Two wrongs don't make a right, but I have a really bad temper," Brandi admitted. "I'm not going to change who I am."
"You lose credibility when you talk like that," Yolanda explained. "Change the way you communicate. 'F--- you' is not the best way to articulate how you feel."
"I'm not in a good space right now," Brandi explains, listing her missing dog and cheating ex-husband Eddie Cibrian as reasons behind her misery.
Later, Joyce and Brandi arrived to model in Kyle Richards' fashion show. The feuding co-stars tried to keep their distance.
"I'm not going to engage. In any little thing you give her, she'll take a mile and it's not happening here tonight," Brandi told the cameras.
Article continues below advertisement
"It's hard when people you don't know try to take you down, calling you a bully and racist," Brandi vented to Lisa before the show.
The drama simmered for a bit, as the star-studded fashion show finally took off. Celebrity host Jamie Lee Curtis -- a longtime friend of Kyle -- spoke on behalf of the Children's Hospital of Los Angeles, bringing some of the housewives to tears.
She announced that Kyle and her husband, famed realtor Mauricio Umansky had donated $100,000 to the children's charity.
"It's important to give back to the things that mean the most to you," Kyle said.
After the show, Joyce tries to sway Lisa to her side.
"You're very close with Brandi and I understand that. With that being said, I feel like Brandi for a long time has been attacking me and you guys just make excuses for her," Joyce confided to Lisa.
"Look, I'm not making excuses for her, but she is my friend. One thing I can say is that she has been going through a really tough time lately," Lisa said.
"That's an excuse," Joyce bluntly replied.
Talking to the cameras, Lisa said she thinks Joyce is "a good girl" but needs to "give Brandi a little bit of a break."
"You're not responsible for her actions," Joyce told Lisa. "You're not her mom. You're just her friend."
The Real Housewives of Beverly Hills airs Monday nights at 8/7c on Bravo.