Watch: Johnny Depp Trampled By Horse On 'Lone Ranger' Set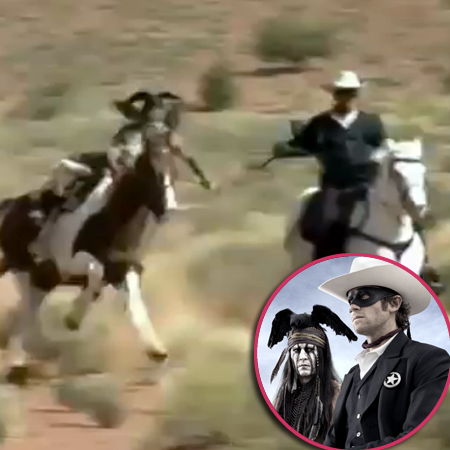 New footage of Johnny Depp on the set of The Lone Ranger last year shows the Hollywood megastar nearly being trampled to death by his horse.
Johnny, who plays Tonto in the movie, is seen getting thrown off his horse as he gallops alongside Armie Hammer.
Then, after hanging off the side of the horse's neck for a mere moment, Johnny falls directly under the horse.
While it appears that the horse moved his front legs clear of Johnny, it looks as though its back hooves land right on top of the actor.
Article continues below advertisement
As soon as Johnny hits the ground, one man shouts, "Stay back guys, apart from the medic."
But luckily it seems Johnny was not hurt in the stunt.
"'Can I tell you what the positive thing is?" he stands up and says. "That my coccyx didn't take it."
"Chicks dig it a few broken bones," Johnny adds!
Johnny told David Letterman about the incident during an interview earlier this year.
"The horses had been running all day so they weren't interested in slowing down at all," he said. "My horse decided to jump a couple of obstacles in the desert but the horse was unaware that the saddle was fake — to give the effect that i was riding bareback. So when we came down, the saddle slipped and I went to the left, and grabbed the mane of the horse. And then the next thing I saw were these very muscular horse legs, this death machine, and one word popped into my head: 'Hooves!'"
He added, "I figured fear would kick in, but it didn't. I was very calm."
In the video, The Lone Ranger's director, Gore Verbinski, talks about how dangerous the stunts were for the actors to do.
"This is really dangerous," he says. "And it's not only dangerous, it's also really hard to achieve. "
Gore concludes, 'It was the hardest thing I have ever made, but that's good because it feels like we are creating something completely new."