VIDEO: New Trailer - Johnny Depp Lets His Inner Kid Out While Voicing 'Rango'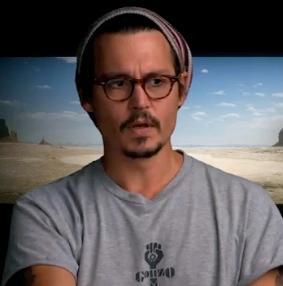 Johnny Depp gives a hysterical behind-the-scenes look of the making the upcoming Nickelodeon movie Rango, and you can check out the trailer right here on RadarOnline.com.
The animated film stars Depp as Rango, a Hawaiian shirt-wearing chameleon who finds himself in a Western town plagued by bandits. He's forced to play the hero he's always wanted to be in order to save the town.
"He's trying to figuring out what he's suppose to be, like most of us in life," Depp said.
Article continues below advertisement
Depp is seen jumping around, dancing, banging on walls and basically carrying on like a kid. It's a very different scene than most actors voicing an animated role, where they just stand at a microphone.
"It's certainly nothing I've ever done before," Depp explained. "Instead of motion capture it's kind of emotion capture, using the actors as a reference for the emotionally animated character."
And although the role was very different for Depp, he had the time of his life making it.
"I think it just gives a bunch of grown-ups an opportunity to be silly," Depp said.
Rango is directed by Gore Verbinski, who also directed Depp in the Pirates Of The Caribbean movies. It opens March 4.
RELATED STORIES: