PHOTOS: Johnny Depp Has Bieber Fever!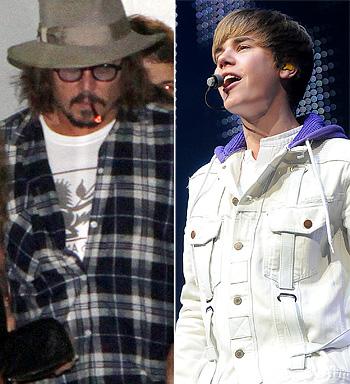 Who would have guessed Captain Jack Sparrow is a Bieber fan! That's what RadarOnline.com learned Saturday night after catching Johnny Depp at a Justin Bieber concert.
The Biebs performed for a sell-out crowd at the American Airlines Arena near Miami Saturday night, and we spotted both Depp and Justin's good friend Selena Gomez in the crowd.
Johnny attempted to sneak out a back stage door after the show, but The Tourist star's secret is out. He officially has Bieber fever!
Article continues below advertisement
Selena Gomez was escorted back to Justin's bus post-show, and she gave him a warm, congratulatory hug as soon as he hopped on.
As RadarOnline.com has been reporting, Justin and Selena have been hanging out together. We saw them Saturday morning as they took a leisurely stroll near their South Beach hotel.
Selena insists the two are just friends, but now that he has Johnny Depp in his corner, who knows what may develop next!