First Look At Johnny Depp As Tonto In The Lone Ranger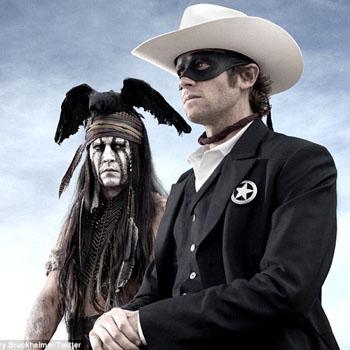 By Alexis Tereszcuk - RadarOnline.com Senior Reporter
Goodbye Jack Sparrow, hello Tonto!
Blockbuster producer Jerry Bruckheimer released the first photo Thursday of Johnny Depp playing Tonto in the upcoming film The Lone Ranger and his transformation is fantastic.
Depp, who will play the trusty partner to Armie Hammer's Lone Ranger, is part Cherokee and told Entertainment Weekly why he decided to take the role. "I always felt Native Americans were badly portrayed in Hollywood films over the decades. It's a real opportunity for me to give a salute to them. Tonto was a sidekick in all the Lone Ranger series. This film is a very different approach to that partnership. And a funny one I think."
Article continues below advertisement
He also spoke to CNN about the character. "What I like about Tonto, what I feel good about Tonto is that I feel like he's - you know when I came up with Captain Jack, I thought, 'Okay, I've really arrived at something different here', and Tonto feels right on par with Captain Jack, it feels like another Captain Jack to me."
And, while everything is going smoothly for Depp on-screen seems he could soon be on the hunt for a real life sidekick. RadarOnline.com broke the exclusive news that Johnny's relationship with his long-term partner Vanessa Paradis is on the rocks.