John Mayer On Split With Katy Perry: 'Coupling Is A Tricky Thing'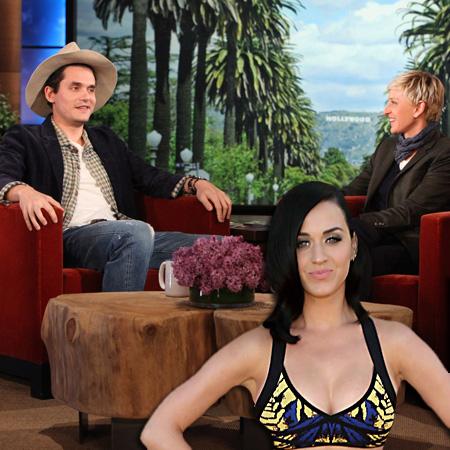 John Mayer is done dropping juicy tidbits about his failed romances.
The Daughters singer, 35, appears on Ellen Tuesday, and gives little details as to why his relationship with singer Katy Perry recently hit the skids.
"It was a very private relationship going in, it was private relationship during, and it's a very private relationship still," the New England-born musician said.
"I can understand asking the question based on some previous answers I've given, but I finally learned how to put the wall between one thing and another," he said. "Coupling is a tricky thing."
Article continues below advertisement
Mayer said he's been leading a cleaner, healthier lifestyle as of late, cutting out a Scotch habit after a bout with acid reflux.
It's a 180 turn for the formerly chatty crooner, once known for stirring things up with controversial comments after his romances with stunners such as Taylor Swift, Jennifer Aniston and Jessica Simpson fell flat.
Among his more memorable gaffes include: famously calling Simpson "sexual napalm;" claiming that African-American actress Kerry Washington "would break your heart like a white girl;" and proclaiming, "All I want to do now is f*ck the girls I've already f*cked, because I can't fathom explaining myself to somebody who can't believe I'd be interested in them."
Watch the video on RadarOnline.com
The Ellen DeGeneres Show airs in syndication nationwide.