Breakup Deja Vu? Katy Perry And John Mayer Over Yet Again!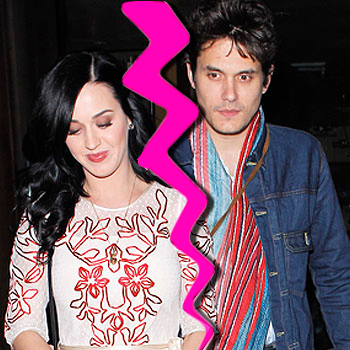 In breakup news that won't shock many people in Hollywood, Katy Perry and John Mayer have parted ways yet again!
In what no one ever really believed to be a match made in celebrity heaven, the high profile couple -- who began casually dating last summer before splitting just two weeks later, reconciling a month later, splitting for a second time in October, then reconciling yet again -- have now called it quits once more, according to a new US Weekly report.
MORE ON:
Jennifer Love Hewitt
Article continues below advertisement
But, is this REALLY the end of the ending?
PHOTO: John Mayer Out And About
"It's sad," a pal told Us, adding that, yep, you guessed it, they may still get back together yet again. "It's not over until it's over. You have to see how things play out."
"She's leaving the window open. They have both been so focused on work," said another source.
Perry, 28, who has only officially been divorced from Russell Brand for a little over a year is the latest star to date the notorious 35-year-old lady's man, following in the footsteps of Jennifer Aniston, Taylor Swift , Jessica Simpson and Jennifer Love Hewitt .