Jodi Arias Defense Scrambles To Save Face -- And Possibly Their Client's Life -- After Expert Witness Blunder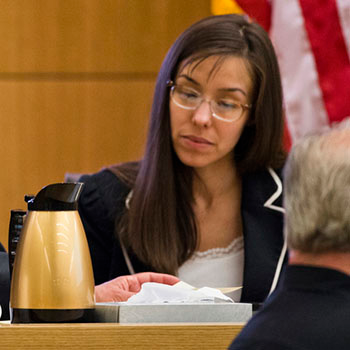 Following a bumbling session on the witness stand the previous day, on Wednesday, both Jodi Arias' defense attorneys and their star witness attempted to mend the damage done by the prosecution's harsh cross examination.
Psychologist and sex therapist Dr. Richard Samuels took the stand once again and attempted to justify his claim that Arias had no memory of stabbing Travis Alexander 29 times, slitting his throat from ear-to-ear and shooting him on June 4, 2008, because the 32-year-old was suffering Post Traumatic Stress Disorder.
Article continues below advertisement
Samuels – who said he met with Arias more than a dozen times during 30 hours of questioning, over a three year period while she was in jail awaiting trial - went on to reveal how she had told him explicit details about her and the late devout Mormon's illicit sex life, including how the first time he tied her up for sex he used twine, which burned her wrists.
He also made the shocking revelation that when Arias was 13 she was attacked by a stranger who held a knife to her throat, revealed Arizona Republic reporter Michael Kiefer from inside the courtroom.
Previously, prosecutor Juan Martinez detailed the multiple lies Arias had told Samuels throughout the process of his evaluation - at one point getting the psychologist to acknowledge that he should have re-administered at least one of the tests he used to come to his PTSD diagnosis.
"The process of forming a diagnosis is not a simple process," Samuels testified. "The fact is that it's necessary to obtain information from as many different sources as you can."
Article continues below advertisement
Samuels later admitted to defense attorney Jennifer Willmott that when he first began meeting with the murder defendant, she was still sticking to her earlier story that Travis had been killed by intruders — Willmott seized on the admittance to discredit the doctor's subsequent diagnosis — asking him to refer back to his interview notes from that meeting and read out what Arias' answers had been to his questions.
"Did she think her life was in danger?" Willmott asked. "Yes," Samuels replied as he scanned his notes. "Did she feel helpless?" Willmott asked… "Yes," was the expert witness' reply once again.
"I based the PTSD diagnosis primarily on my interviews, the crime scene photographs and descriptions, interviews with family members, police reports, emails, text messages and the psychological tests," explained the flustered psychologist, as he attempted to justify his subsequent diagnosis in light of proof he had been blatantly lied to by Arias throughout the crucial test.
After Willmott had finished tearing apart the basis for Samuels' PTSD diagnosis - Martinez stepped in to tear apart the expert's own personal credibility - accusing him of blurring the line between objective observer and therapist when he bought Arias a self-help book about building self-esteem.
The trial continues, stay with RadarOnline.com for regular updates and daily live-streaming.