When Will You Tell The Truth? Prosecutor Picks Apart Jodi Arias Story With Her Own Journal, Text Messages & Magazine With Secret Code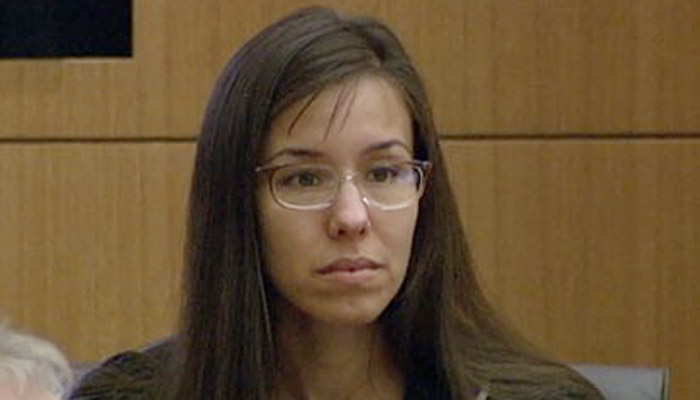 Prosecutor Juan Martinez spent his first day cross-examining murder defendant Jodi Arias loudly calling her out on contradictions and inconsistencies in her tale of how she killed one-time boyfriend Travis Alexander as the death penalty trial featured details about a torrent of sex, lies and text messages as crucial evidence.
Martinez aggressively questioned Jodi and bluntly asked, "Do you have a problem with memory?" referring to her claims of being unable to remember stabbing Alexander 27 times and slitting his throat after she shot him on June 4, 2008 in his Mesa, Arizona home. Arias has claimed she killed Alexander in self defense after he attacked her.
Article continues below advertisement
"Whatever you told us in the past is somewhat suspect because your memory may be lacking, right?" Martinez said sarcastically, after a barrage of questions on diverse subjects, including what disparaging name Arias called her own sister and how she damaged her left ring finger.
Her habitual lying was showcased by the prosecutor with video footage of a police interview where she told an elaborate story to Detective Flores about how she had hurt her left ring finger -- an account that differed from her claim that Alexander inflicted the injury.
For more on the broken finger mystery, watch the video from KPNX 12 News here:
Not only did Arias lie to friends, family and the police, she also masked the truth in her own personal diary, Martinez contended. "When do you decide to tell the truth?" the prosecutor bellowed at one point as he showed the jury that Arias' diary made no mention of Alexander hurting her finger, despite her later insistence that he did.
Article continues below advertisement
"I haven't written because there was nothing noteworthy to report," read her entry written after Alexander supposedly injured her.
"Nothing has stopped you from telling this story ever, correct?" Martinez asked forcefully during he proceedings in the Maricopa County Court.
When asked how she can remember what she had at Starbucks five years ago but not important events related to the alleged murder, she said: "I always got the same drink at Starbucks," and about recalling intimate details of sex with Travis, "When I am under stress it affects my memory," Jodi responded coyly, revealing that "at times" she enjoyed the sex.
For more evidence of Jodi's unreliable memory lapses, watch this video from KPNX 12 News:
Despite Martinez hammering her with heated and direct rapid fire questions, Jodi, 32, kept her composure throughout most of the drama, and as the prosecutor asked: "When do you have a memory problem? What factors influence you having a memory problem?" Arias replied in a steady voice: "Usually when men like you are screaming at me…or someone like Travis doing the same. It makes my brain scramble."
Article continues below advertisement
For footage of Jodi standing her ground with Martinez, watch the video from KPNX 12 News here:
As we have come to expect from the blockbuster trial, testimony inevitably turned to the topic of sex, with raunchy diary entries and dirty text messages talking about play time with "pop rocks and tootsie rolls," and how Travis liked her to wear girly-style braids.
Later during the afternoon testimony, Martinez seemed to surprise the defense when he pulled out copies of Star magazine and a photography magazine that Jodi had gone to great effort to give to a woman named Ann Campbell on Aug. 4, 2011.
Both magazines – which were checked carefully by prison guards and officers before they reached the outside world – included coded messages that Jodi wanted sent, with the code revealed by secret numbers referring to pages.
Among the secret notes were the phrases, "You testify so… We can fix this….Directly contradicts what I have been saying for over a year," and venomously: "You f**ked up what you told my attorney the next day."
Article continues below advertisement
"Interview was excellent… Get down here a.s.a.p. and see me before you talk to them again," read more illicit notes.
One of them also has the name and number of a former ABC producer, which conflicts with Jodi's claims that Inside Edition solicited her for her infamous interview. She previously said she had been pressured by a prison guard to talk on camera.
It is thought that the messages were for Jodi's ex-boyfriend Matt McCartney, who was interviewed by the prosecutor shortly before the date the magazines were delivered.
Martinez seemed to calm down as the day progressed, moving from nearly shouting questions at Arias to a more methodical approach, as he elicited information about her past relationship with McCartney, including the revelation that Jodi had made a surprise visit to a girl she learned Matt had cheated on her with.
"Isn't that the same thing she did with Travis when she thought he had cheated on her?" he asked the courtroom.
Stay with RadarOnline.com for regular updates and daily live-streaming of the Jodi Arias murder trial, which resumes Monday.