Jodi Arias' Life Or Death Moment: Prosecutor Traps Her In Premeditation Plot With Gas Can Purchases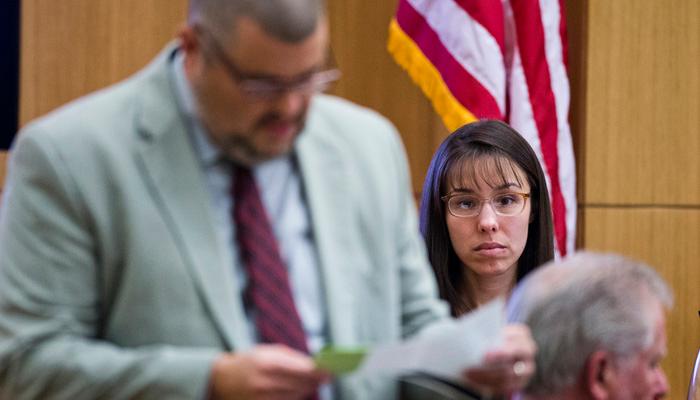 Murder defendant Jodi Arias was back on the stand Thursday being grilled by the men and women who will decide her fate in the killer romance trial, but it was cold-hard facts presented during the subsequent re-questioning by prosecuting attorney Juan Martinez that provided the real smoking gun of the afternoon, RadarOnline.com is reporting.
The bulldog prosecutor hammered his nemesis with questions about the gas can purchases for her road trip from Yreka, California to Utah, during which she stopped off on the way to Travis Alexander's Mesa home.
Article continues below advertisement
"I put gas in them (in Pasadena) but I don't know if I filled them to the brim," said Arias, who subsequently got snippy when talking about the sequence of events. "I wouldn't bet all my money on what it was. I can only go on receipts and times."
Martinez threw Jodi's very own words at her by saying, "Nobody was yelling you at that time, you have been fond of telling us how great a memory you have when no one is grilling you," to which she meekly replied, "Yes."
"Why did you show up with three gas cans in Salt Lake City?" he demanded, prompting an angry objection and a sidebar.
"I went to Mesa with two gas cans," Jodi claimed. "I left Ryan's house in the early morning hours (put gas in the car) at 3:37 a.m."
The point of the direct and aggressive line of questioning by Martinez is to prove premeditation on Arias' behalf by showing that she deliberately didn't leave any trail of receipts in Arizona because she didn't want anyone to know that she was ever there, thus revealing that she had allegedly planned to kill Travis before she even hit the road from California.
Article continues below advertisement
Martinez first pulled out receipts from her bank account at Washington Mutual, and then revealed evidence from Walmart showing no record of returning a five gallon gas can on June 3 – the day before Alexander died.
Jodi said she had a refund in cash, and is "surprised" there is no record because she is adamant she returned it – a claim that may well come back to haunt her.
Earlier in the day during the jury questioning session, the murder defendant was asked pointblank, "How can you say that you don't have memory issues when you say you can't remember how you stabbed him so many times and slashed his throat?"
"Well, I think that I have a good memory," she stumbled, adding ironically, "June 4 is an anomaly for me."
Other questions fielded through Judge Sherry Stevens included, "If you were truly scared, why let Travis tie you up during sex?" and "Did you enjoy having sex with Travis?" to which she replied, "For the most part, yes I did."
Clearly coming from a juror skeptical about Jodi's ability for honesty she was asked, "Would you decide to tell the truth if you never got arrested?"
Article continues below advertisement
The damning inquiry prompted a stony silence, before the 32-year-old finally said, "I honestly don't know the answer to that question.
"Lying isn't typically something I just do," she said straight-faced. "I am not going to say I have never told a lie in my life before this. But the lies I have told in this case can be tied directly back to protecting Travis' reputation or my involvement in his death in any way."