Sex, Lies And Explosive Tempers! Jodi Arias Admits To Graphic Acts With Travis Alexander In Standoff With Prosecution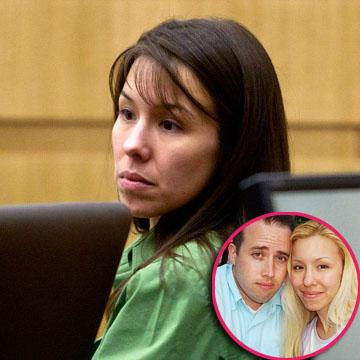 A defiant Jodi Arias returns to the stand for the 12th day Wednesday in her bombshell murder trial, after yet another tense day Tuesday of aggressive cross examination from the veteran no-nonsense prosecutor in the case, RadarOnline.com is reporting.
Looking more confident and self assured than she had the day before, 32-year-old Jodi sparred with prosecutor Juan Martinez for hours as she told him, "You are making my brain scramble," blaming his mannerisms and circular questions for her not being effective on the witness stand.
Article continues below advertisement
"I focus more on your posture than the context of your questions. Where you stand won't make a difference to my comfort," she said bluntly as she finally successfully managing to derail Martinez, according to Arizona Republic reporter Michael Kiefer.
The tough prosecutor seemed determined to prove a pattern of behavior in Jodi's colorful love life, revealing that she had not only confronted former boyfriends about them cheating on her – but also performed anal sex with them.
But Arias claimed that Travis Alexander was the only man she did it "on a regular basis" with, due his religious Mormon beliefs.
Jodi admitted to snooping through Travis' phone and reading messages to other women that drove her mad with jealously, and she dropped a bombshell on Tuesday morning by naming then-married Shannon Crabtree Peterson as the "other woman."
However, in an exclusive interview with RadarOnline.com, Peterson adamantly denied having an affair with Travis, who she worked with at Pre-Paid Legal.
Article continues below advertisement
"Jodi is a liar! Travis and I were very good friends," she explained. "I was going through a divorce from an alcoholic, an angry alcoholic, and Travis really helped me get through that."
After a much-needed lunch break, the Arias and Martinez show was back and the subject matter became immediately X-rated, with the attorney addressing her accusations that Travis looked at inappropriate pictures of young boys.
"So you think someone who masturbates to pictures of boys is beautiful on the inside?" asked Martinez, to which she answered: "Not those aspects… He hated that part of himself."
The graphic and often antagonistic testimony continued through the afternoon with Martinez arguing that Arias was hypocritical in her attitude to sex – switching between actively instigating it and then claiming she felt used.
Article continues below advertisement
Jodi introduced Travis to KY jelly because "It made our activities more enjoyable…most were enjoyable to start with," she said, admitting that they were both experimenting sexually.
"Your participation was equal to him?" asked Martinez. "Yes," she said.
Martinez went on to debunk her for saying she "felt like a prostitute" and suggested that Arias was moving their sexual relationship along more than Travis.
"I would say it was mutual," she claimed. "I didn't feel like a prostitute during, it was just afterwards that I did.
"When he jizzes on my face and throws candy at me, then walks away without saying a word, that makes me feel like a prostitute," Arias revealed, referring to the time she spent three days with him in a California hotel and he then did not call her for three days afterwards.
The testimony came to an abrupt halt for the day when Arias complained that she was not getting enough food throughout her grueling grilling on the stand, causing her to suffer health issues and get migraines.
Judge Sherry Stephens told the court that the Sheriff's office has been ordered to provide lunches and she will inquire about it, as she dismissed them until Wednesday.
As the trial continues, stay with RadarOnline.com for regular updates and daily live-streaming .