WATCH: Pope Francis Who? Jimmy Kimmel Convinces People That Kris Jenner IsTime's Person of the Year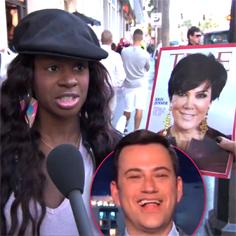 Article continues below advertisement
"There are always people who don't keep up on current events, so I thought it would be fun to send our camera out on Hollywood Boulevard today to find out what people think about Time's Person of the Year. We did not tell them the Person of the Year was the Pope," the Jimmy Kimmel Live! host revealed. "In fact, we told them it was other people."
The first person producers selected for their social experiment was none other than Kim Kardashian's mother, the Keeping Up With The Kardashians matriarch Jenner.
"I think Kris is an amazing businesswoman with a really good head on her shoulders," said one woman, who added that the honor was "well deserved."
Kimmel and Kanye West had an epic fight this year after the talk show host mocked the interview where he said that he was the biggest rock star in the world, but his mother-in-law-to-be was definitely not off limits for teasing.
Another passerby said, "She has hustled her way this year. She is a household name. Everybody knows her. She has just been on everything and everywhere, so I think Person of the Year would be a good accolade for her."
Article continues below advertisement
Toronto's crack-smoking mayor Rob Ford was the next person to make the farcical list.
Celebs Who Have Slammed The Kardashians
"I think he's kind of a ridiculous, funny character. I don't think he should be Person of the Year for what he has done," one man said.
Ford wasn't the only politician used in the bit, however: former New York City mayoral candidate Anthony Weiner was also "honored" in jest.
Watch the video:
youtube=https://www.youtube.com/watch?v=05gN0GTdRM0&w=560&h=315