Jessica Simpson: 'We've Had Two Different Wedding Dates, But He Keeps Knocking Me Up'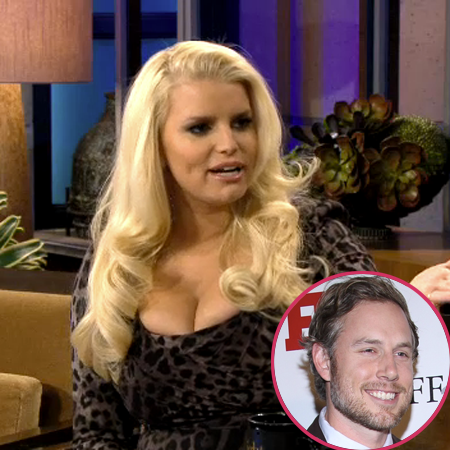 On The Tonight Show with Jay Leno Tuesday, the pregnant Jessica Simpson talked about another baby she in the works -- a sitcom with NBC -- as well as the reason why she hasn't tied the knot with her fiance of two years.
"We've had two different wedding dates, but he keeps knocking me up," The Dukes of Hazzard beauty said of her fiance, former 49ers tight end Eric Johnson. "We're doing it very backwards, I know -- I'll just keep my legs crossed, I guess, this time!"
Article continues below advertisement
Jessica said that becoming pregnant soon after the birth of her now-8-month-old daughter Maxwell "was a part of God's plan for my life.
"I was extremely shocked ... because I was going through a lot of hormonal changes, trying to get back to the old, vibrant Jessica. You know, it was kind of like a one-night stand. And it happened, all over again!"
The Weight Watchers spokeswoman admitted that during her first pregnancy, she "didn't ever step on the scale," and subsequently, gained "a lot more than doctors would recommend.
"I didn't really make any healthy good decisions," said Jessica, who shed around 50 pounds prior to getting pregnant again.
Staying under contract with Weight Watchers, she pledged not to eat "everything in sight" the second time around, as she'll resume her diet program after she gives birth again.
Watch the video on RadarOnline.com
The busty 32-year-old said her sitcom, which will air on NBC, will be "loosely based" on her life.
Article continues below advertisement
"And how that girl deals with that and everything else," she said. "I will be playing myself, which is pretty easy."
Jessica -- who said she will continue to star in the network's reality show, Fashion Star -- said her still-untitled sitcom is currently in the process of rounding out the cast and producing a pilot episode.
"I will be playing myself, but we'll have actors playing Eric and my dad. That'll be funny."
Leno did not ask Jessica about her father Joe's scandal that came to light following his split with wife Tina.