That's One Fine Felon! Married Mug Shot Romeo Jeremy Meeks Says He's 'Not Some Kingpin,' Or Gangbanger, As Purported Mother Begins Fundraiser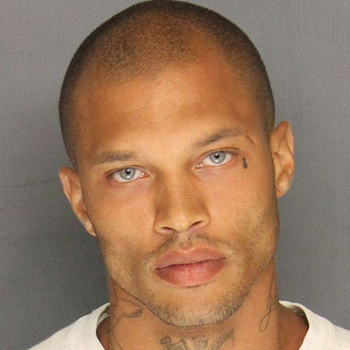 Jeremy Meeks, the accused gang member whose eye-catching mug shot has garnered a record number of views, likes and reactions from Facebook and Twitter users, is aware of his 15 minutes of fame — and wants you to know he's not that bad a guy.
The 30-year-old Stockton, Calif., man — who is married, which must disappoint his legions of romantic admirers — spoke with KXTV from behind the jail glass, where he acknowledged the newfound fame, and tried to shatter misconceptions that have accompanied his rise to online prominence.
Article continues below advertisement
"I just visited my wife and she said I like, blew up all over Facebook," Meeks told the ABC affiliate. "I appreciate that, and I just want them to know . . . that this is really not like me, I'm not some kingpin."
The man with the sharp features and ocean blue eyes shot to fast fame following his arrest this week in connection with suspicion of felony weapons possession, after his image on the Stockton Police Department's Facebook page caused an avalanche of drooling, lusty responses.
Among them: "He's too fine to be a criminal. I got $10 on his bail" … "What is he guilty of?! First Degree Sexiness?!" … "He'll probably be on next years prison calendar . . . Mr . . . EVERY MONTH!" . . . "Momma, I'm in love with a criminal."
Watch the video on RadarOnline.com
Meeks, who once spent 71 days behind bars in connection with theft and forgery convictions, was arrested Wednesday in a gang sweep dubbed Operation Ceasefire that involved the FBI, the U.S. Marshal's office, the Bureau of Alcohol, Tobacco, Firearms and Explosives and Stockton-based gang units, Stockton Police Officer Joseph Silva said. (In what might be the ultimate Jan Brady-esque inferiority complex, three other men — Terry Bailey, 22, Juzri Coleman, 18, and Joelin Coleman, 44 — were also arrested in the sting, yet haven't drummed up a fraction of the attention their alleged running mate has.)
Article continues below advertisement
Meeks — who Silva dubbed "one of the most violent criminals in the Stockton area" — is charged with four weapons-related offenses, and one gang-related infraction; he remains in custody at the San Joaquin County Jail on $900,000 bail.
Katherine Angier, a woman who says she's his mother — perhaps capitalizing off the newfound notoriety, and the Internet's fondness for her baby boy — has began a "Free Jeremy" campaign on gofundme.com http://www.gofundme.com/aih9m8 in hopes of drumming up $25,000 toward Meeks' bail; as of midday Friday, the account had $798 in donations from 52 separate benefactors.
Angier on the page says her son: "He has a job and . . . He was. With no gang affiliations as per two of the charges. He has old tattoos . . . which causes him to be stereotyped. He's my son and he is so sweet. Please help him to get a fair trial or else he'll be railroaded."
Meeks was slated to hear the charges against him in a Stockton court on Friday.
Stay with RadarOnline.com for more on this story.