Natural Born Killers? Unrepentant Racist Murderer Lovebirds Share Tender Moment Following Life Sentences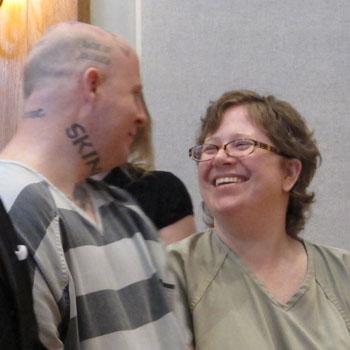 A racist South Carolina couple sentenced to life imprisonment after being found guilty of first-degree burglary, kidnapping and murder in the July 2013 murder of a couple smiled and kissed as they heard the verdict, taunting the victim's survivors on the way out of the courtroom.
Jeremy and Christine Moody, both white supremacists, smiled as Judge Lee Alford delivered the sentences in connection with their double murder of registered sex offender Charles Parker and his wife Gretchen.
Article continues below advertisement
Watch the video on RadarOnline.com
youtube=https://www.youtube.com/watch?v=WWzUdk4UCDM&w=560&h=315
"See you perverts later! That's what child molesters get," 31-year-old Jeremy bellowed toward Parker's family, while 37-year-old Christine declared that "killing that pedophile was the best day of my life."
The criminal couple pulled off the preplanned execution when they arrived at the Parker home, feigning car troubles; when Charles Parker emerged to lend Jeremy a helping hand, he pulled a gun on the man and forced him into the house. The couple told Parkers they had targeted them because of Charles' sex offender status, prosecutors said, then shot and stabbed the Parkers.
As they departed, they were caught on camera, and easily identified by a number of tattoos Jeremy had touting his racist beliefs: "Skinhead" and "Made in America."
Both of the Moodys has been molested when they were children, attorneys said in the proceedings, with a psychologist noting that they felt it was their life's mission to execute as many sex offenders as possible.