Jennifer Lopez 'Really Happy' Over Ex-Fiance Ben Affleck's Golden Globe Win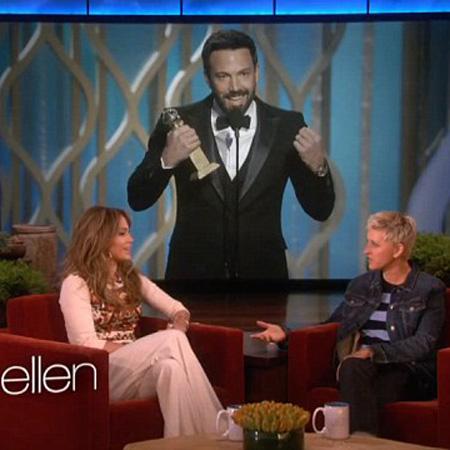 We all know how awkward it can be to run into an ex – but imagine when you're super famous and cameras are there to record it for the world to see!
No worry – according to Jennifer Lopez, who found herself in the same room as her former finance Ben Affleck (Remember 'Bennifer' and the infamous music video for Jenny On The Block?) and her former boyfriend Sean "Diddy" Combs at the 2013 Golden Globes last Sunday in Los Angeles.
Article continues below advertisement
J-Lo - who appears in a pre-taped interview Wednesday on The Ellen DeGeneres Show - says it's not unusual for her to bump into her famous exes.
"No (it isn't awkward) because I see them a lot. We are in the same business, we run in the same circles," she said.
She also says she could not have been happier for Affleck when he took home the Best Director prize at the Globes.
"It Argo was a great movie,' the 43-year-old Jenny From The Block singer told Ellen.
"And, we got you know, a lot of like.. they were really hard on us in the press when we dated back in the day. On movies and things like that.
"So it was a nice moment. It was a nice to see him have that moment. I was really happy for him."
Watch the video on RadarOnline.com
Lopez – who's now divorced from Marc Anthony - and her 25-year-old backup dancer boyfriend Casper Smart also bumped into another of the singer's famous exes - Sean 'P. Diddy' Combs. Lopez greeted Combs with a "Hello baby" and planted a big kiss on his cheek right before introducing him to Casper.
The pair dated in 1999.
As for Affleck, 40, he too has moved on with actress Jennifer Garner; the pair have been together for seven years and have three adorable children.
On Wednesday's show, Ellen also asks Jennifer about leaving American Idol.
"I miss it, I have to tell you," she said.
"I love what I am doing, but I am going to miss it, I loved the people there... it was a nice little family."
J-Lo didn't rule out a return to the Fox show, but she declined to comment on the feud between new judges Nicki Minaj and Mariah Carey.