Jenelle Evans' Hubby Cheats On Camera, But Claims She Cheated First With Ex Gary Head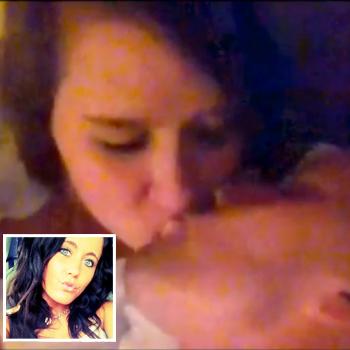 The drama continues and there appears to be no end in sight!
Jenelle Evans and her estranged hubby Courtland Rogers are in a heated battle over who cheated on who — and even though Courtland kissed another woman on camera Wednesday night, he's adamant that it was staged and just revenge because he believes she's sleeping with her ex-fiance, Gary Head - and RadarOnline.com has all the details.
"Lol ok ok let me turn around gimme a hour and watch my stickam session lol everybody tell jenelle thank u because she just commited sic adultery!" Courtland tweeted on Wednesday after finding out Jenelle was at Gary's house.
Article continues below advertisement
Courtland also goes on to allege that Jenelle slept with a girlfriend of hers, Tori, saying, "Jenelle f**ked tori 3 weeks ago do y'all not remember their lil stickam session?"
Then in a video session Courtland did Wednesday night on the live streaming site Stickam, he appeared in a hotel room with a young woman named Tiffany Knabe and at one point says to her, "Gimme a kiss."
The two quickly kiss on camera.
"How do y'all know what she did when the. Camera wasn't on??me n Tiffany ain't even really touch lips kissing their was 3 other people there," Courtland tweeted on Thursday.
Meanwhile, Courtland's baby mama, Taylor Lewis, has teamed up with Jenelle and the two have been swapping stories.
"well i hate to say this when i went through his phone he had naked pictures," Tiffany tweeted on Thursday.
Jenelle did in fact meet up with Gary on Wednesday night and the two also did a Stickam live streaming video together — in which Gary smoked marijuana while sitting next to Jenelle who even after her miscarriage scare on Tuesday claims she's still pregnant.
Article continues below advertisement
But both Jenelle and Gary are adamant that they have not slept together.
"I already told her from the get go im not f**king her," Gary tweeted on Wednesday night. "I can and will turn down sex.
"Just because I'm with my ex does not mean I'm f**king her. I'm being a friend. Not a man whore."
As RadarOnline.com exclusively reported on Wednesday, Jenelle filed assault charges against Courtland — four charges of assault on a female and one charge of assault on an unborn child.
"No I did not hit Jenelle I swear to God! I ain't never touched Jenelle!" Courtland said during his live chat on Wednesday night.
"She makes all that sh*t up and then runs to Gary's house? Really? Now I have, like, four charges of assault on a female? F**k that sh*t."
As of Thursday afternoon Jenelle had remained relatively quiet tweeting, "nice to surround yrself with positive people, even when they don't kno u and they r being super supportive. Thanks to @gary_head and friends."