Jay Leno, Jimmy Fallon & Other Late Night Hosts Crack Jokes About Tonight Show Shakeup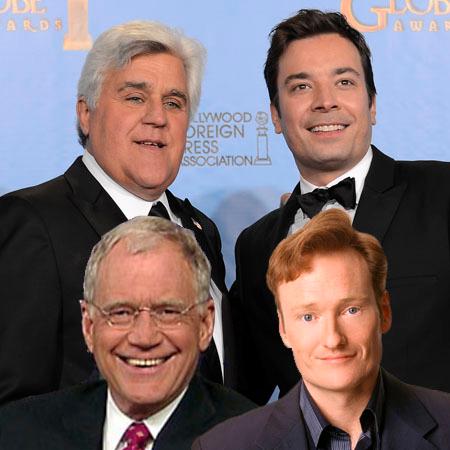 Article continues below advertisement
Leno called Fallon "a hell of a guy," predicting "he's going to do a great job."
He took a dig at NBC's recent sagging ratings, saying, "We've all fought, kicked and scratched to get this network up to fifth place, now we have to keep it there! Jimmy, don't let it slip into sixth! We are counting on you."
In another nod to the network execs' high turnover rate of Tonight Show hosts, he joked that "Jimmy hasn't even taken over yet and the rumors have already started -- NBC says in five years they plan to replace Jimmy with Justin Bieber!"
On the East Coast, Tonight Show host-elect Jimmy Fallon was humble, yet optimistic now that the career-making news is confirmed.
"Hello! Welcome! This is Late Night With Jimmy Fallon -- for now," Fallon joked. "You guys probably heard the news -- I'm going to be taking over The Tonight Show next February! But don't worry. Until February, our focus is right here on whatever this show is called."
Later on, Fallon -- whose show will be overseen by Saturday Night Live creator Lorne Michaels -- launched into a poignant speech expressing his gratitude for Leno and others who helped him get into comedy's top gig.
Article continues below advertisement
"I want to thank everyone here at Late Night, the staff, the crew and, of course, The Roots," he said. "I have to say thanks to Jay Leno for being so gracious. It means so much to me to have his support. I just want to thank the fans for staying up to 12:35 a.m. and watching us."
Across the way, Letterman, with his long rivalry with Leno over the throne, gave his unique perspective on the matter.
"I got a call from my mom today, she says, 'Well, David, I see you didn't get the Tonight Show again,'" Letterman said. "What are you going to do, mom?"
Unlike the NBC hosts, Dave rolled the clock back to NBC's disastrous fiasco in giving Conan O'Brien the Tonight Show only to take it back less than a year later and give it back to Leno.
"It seems like we just went through this, didn't we just go through this?" he asked. "Jay Leno now is being replaced, and this is the second time this has happened. I mean, it's crazy. He's being replaced by a younger late night talk show host – what could possibly go wrong? Honestly.
Article continues below advertisement
"They had pretty good luck with this in the past. But NBC, God bless 'em, announced the official date for Jay Leno's departure -- no mention of his official date of return, however."
Letterman took another jab at the purported workaholic Leno, saying "I happen to know Jay's got another job on network that has greater viewership, higher ratings -- Univision -- he's going there."
youtube
And back on the West Coast, former Tonight Show host Conan was a man of few words about the shake-up, telling Fallon, "Congratulations Jimmy, that is a really fun gig … it is, it's a really cool gig."
He later said that "Jimmy is the perfect guy to do it and he's going to do a fantastic job."
Outspoken Leno critic Jimmy Kimmel, also based in LaLa land, didn't kick Jay while he was down, but rather did a bit playing off the fact that he and Fallon share the same first name.
"It is a big one for the world of late-night television," Kimmel said Wednesday. "As you probably heard -- it was announced officially today -- that, starting in February of next year, after the Olympics, I will take over as new host of The Tonight Show.
Article continues below advertisement
"I spoke to Jay on the phone today … excuse me for one moment. OK. Ummm -- apparently it was a different Jimmy. Are you sure? Hold on."
After realizing it was Fallon's job and not his, Kimmel announced, "OK, turns out, I will not be hosting The Tonight Show -- does anyone know what the return policy is on yachts?"
Watch the video on RadarOnline.com
As we previously reported, Fallon, 38, will overtake Leno, 62, for the throne next February, and NBC will relocate the show back to New York to accompany the switch. The network decided on the change in hopes of booting the key demos, as they covert Fallon's youth and mastery of new media, as he's generated buzz with viral bits on YouTube, and interacting with fans on Twitter. Fallon's comedic mentor, Saturday Night Live boss Lorne Michaels, will serve as the new Executive Producer of The Tonight Show.
Bill Carter, the New York Times reporter who brilliantly chronicled the late night wars in the 90s between Leno and Letterman in his book The Late Shift, told CNN that Leno told him "the difference with this was he went along with it, … agrees with this … and is on board with this."