Arrest Warrant Gun Shocker: Police Feared Heather Would Commit 'Suicide By Cop'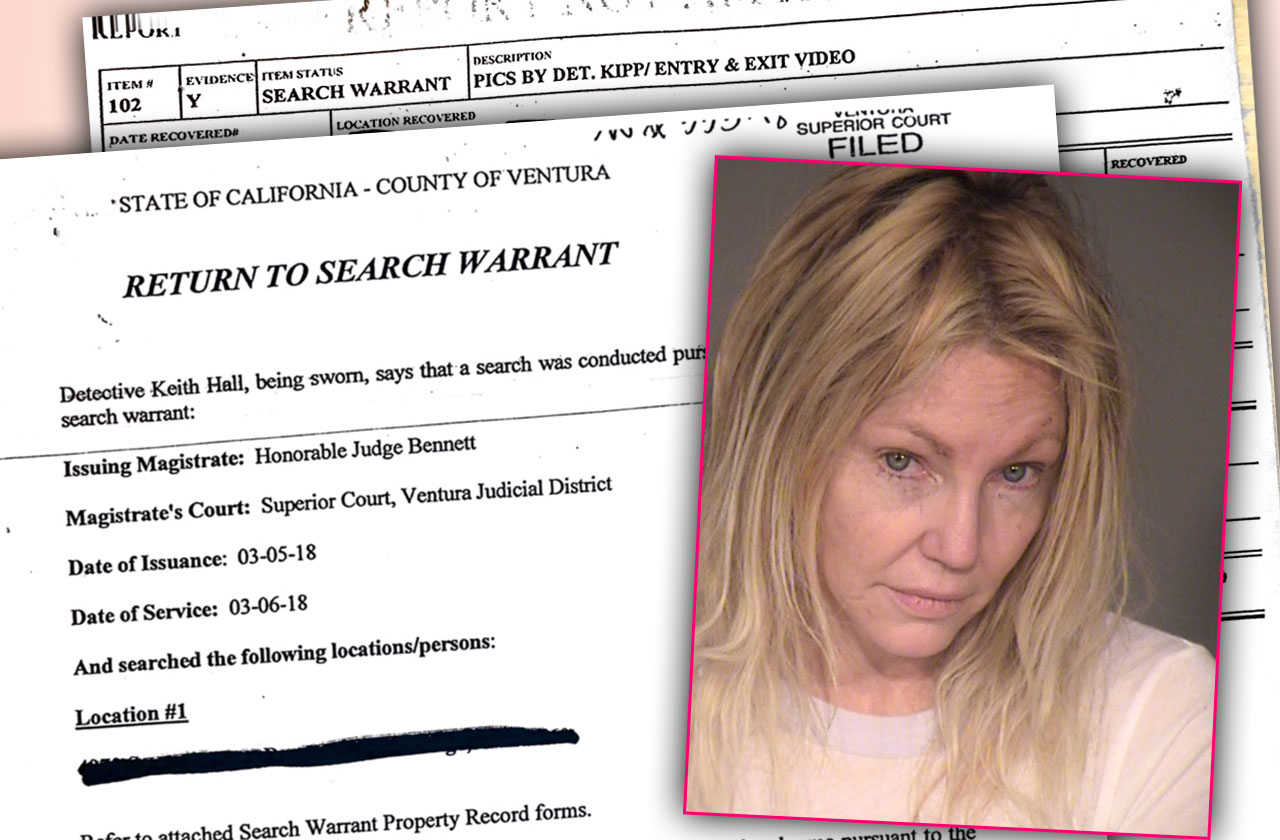 The search warrant issued for a gun in Heather Locklear's home after she was arrested revealed the shocking detail that police officers believed she could commit "suicide by cop," RadarOnline.com exclusively learned.
Locklear was arrested on February 24, 2018 and according to the search warrant obtained by Radar, her "erratic, aggressive behavior toward law-enforcement," had them fearful for her future actions and they wanted to remove the Smith and Wesson .38 revolver from her home.
Article continues below advertisement
"Locklear had also been drinking on this night as well and appeared out of control," Sheriff Keith Hall wrote in the docs obtained by Radar. "Based on my training and experience, I know the people who are intoxicated by drugs and or alcohol exhibit lowered inhibitions, clouded judgment, erratic behavior, aggression, and are unpredictable."
He explained why he was requesting to obtain the gun from Locklear's home where she was involved in a fight with her fiancé, Chris Heisser.
"Deputies have responded to her residence in regards to Locklear being reported as a suicidal subject. Based on my training and experience, suicidal people have been known to commit "suicide by cop," where the subject intentionally provokes a lethal force encounter to force police to shoot him as a method of suicide.
Hall continued: "Due to the history of past police responses, there's a high probability the police will respond again to Locklear's home in the future.
Article continues below advertisement
"Her threat to shoot police the next time they respond to her home, coupled with her erratic, aggressive behavior toward law-enforcement, and the fact that there is a record that Locklear does own a firearm presents a legitimate threat to law enforcement."
The search warrant obtained by Radar revealed that her sister told police "Locklear's boyfriend choked her and try to kill her."
Deputies described the scene they found when they arrived at Locklear's home. Heisser was "standing on the side of the bed leaning over Locklear and holding her wrists while Locklear was on the bed, lying back, with her feet on the floor."
Heisser told cops she had been acting "crazy, angry and wild," and he was bleeding from the bridge of his nose.
Locklear told the police they "got into a fight and he tried to choke her," but that she didn't have any marks on her neck, according to documents obtained by Radar.
Before Locklear was taken to the police station she was taken to a local hospital.
According to the documents, "Locklear continue to be belligerent making statements that she hoped the police officer and his wife and kids would die while in hospital."
Article continues below advertisement
Locklear also kicked an officer "in the groin area," and unleashed a tired, yelling: "You f**king deserve your kids to die! You f**king deserve it! And when you find yourself in that position, think of me!"
Locklear continued, screaming: "I hope no one f**king burns your entire department down, your f**king police department."
She then mentioned the gun that the cops did not find in their search.
"Get the f**k off my property. Don't ever come on it. All of you are not allowed ... I will shoot you if you come on my property and take that as a threat and f**king put another count against me."
As Radar exclusively reported, Locklear checked into rehab after the incident.
We pay for juicy info! Do you have a story for RadarOnline.com? Email us at tips@radaronline.com, or call us at 800-344-9598 any time, day or night.