That's A Body To Brag About! Gwyneth Paltrow Strips Down To Black Lacy Lingerie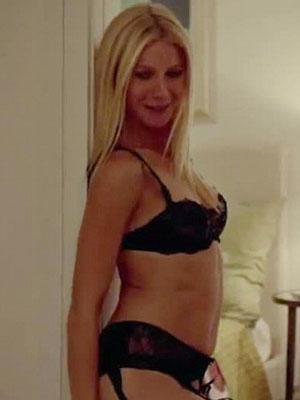 Gwyneth Paltrow at 40 looks better than most 20-year-olds and RadarOnline.com has the video where she strips down to just her black lacy lingerie and tries to seduce her sex addict boyfriend in her new movie.
Showing of the killer body that she works so hard for, Gwyneth almost bares it all in a black lace bra, booty revealing black lace panties, a sexy garter belt and thigh-high sheer black stockings.
Article continues below advertisement
The trailer for Thanks for Sharing has the Oscar winner strutting seductively into the room where her on-screen boyfriend Mark Ruffalo is waiting for her.
"Hey baby, you want to dance," she purrs to him, while the sex addict character says "This is taking me to places I don't want to go right now."
Proud of her Tracy Anderson sculpted body, Gwyneth is showing of the what she's famous for now, and she's bragged in the past about how great she thinks she looks.
"I saw a shot of myself in Barbados and was, like, all my hard work paid off," she told Self magazine about the bikini pictures that made her so proud.