Gwyneth Paltrow Breaks A Sweat On Set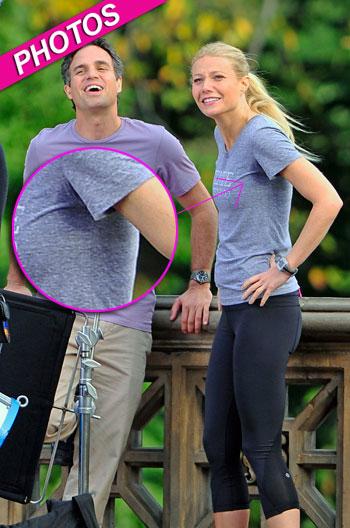 Article continues below advertisement
But it seems like the exercise was for real as Gwyneth even had tell tale sweat stains under her arms in her fitted t-shirt.
With her blonde hair pulled back in a ponytail, she was even wearing special cycling shoes for her on-set workout.
The 39-year-old mother of two trains with Tracy Anderson, whom she credited with really toning up her butt, and she admits that she hits the gym six times a week!
"If I'm prepping for something or I've been eating a lot of pie, I do two hours a day, six days a week for two weeks," Gwyneth told Self Magazine.
MORE ON:
hollywood happenings
However, she said she's not afraid to enjoy her downtime too. "If I'm on vacation and, like, 'F*** it, I'm not working out,' I know what to do when I get back."
Whatever Gwyneth is doing it is definitely working!
RELATED STORIES:
Happy 39th Birthday Gwyneth Paltrow!
Justin Timberlake And Gwyneth Paltrow Are Big Winners At Primetime Creative Emmy Awards
Gwyneth Paltrow 'Saved Woman From Death on 9-11' -- Real Life Sliding Doors Moment