Fallout From Manti Te'o Scandal? NFL Asks Prospective Player If He 'Likes Girls'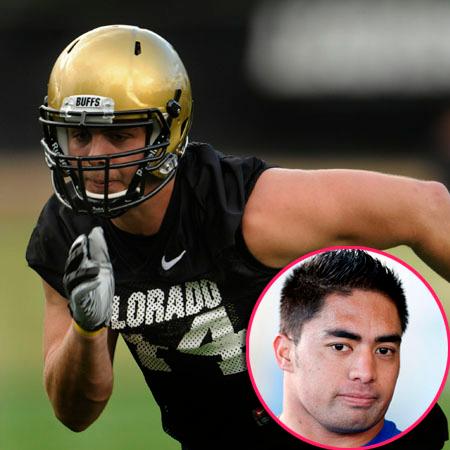 Colorado University tight end Nick Kasa, who's being evaluted by teams and scouts at the NFL combine, told ESPN Radio Denver Tuesday that he was quizzed heavily about his sexuality as he met with teams assessing him for next month's draft.
They would "ask you like, 'Do you have a girlfriend?' Are you married?' Do you like girls?'" Kasa said Tuesday. "Those kinds of things, and you know it was just kind of weird.
Article continues below advertisement
"But they would ask you with a straight face, and it's a pretty weird experience altogether."
The teams seem especially interested in the sexual orientation of Notre Dame's Manti Te'o in the wake of his girlfriend hoax that made national headlines earlier this year.
"Here's the elephant in the room for the teams and it shouldn't matter, but we have to step aside from the rest of reality and walk into the unique industry that is the NFL," NBC Sports analyst Mike Florio told radio host Dan Patrick earlier this week. "Teams want to know whether Manti Te'o is gay.
Nick Casa on ESPN Denver
"They just want to know. They want to know because in an NFL locker room, it's a different world. It shouldn't be that way."
Over the past year, NFL players have been all over the map about the issue: Baltimore Ravens linebacker Brendon Ayanbadejo and Minnesota Vikings punter Chris Kluwe publicly welcoming the idea of an openly gay teammate, while San Francisco 49ers cornerback Chris Culliver made waves before the Super Bowl, saying, "We don't got no gay people on the team, they gotta get up out of here if they do."
Prior to that, gay rumors publicly swirled around former NFL stars such as Jeff Garcia and Kordell Stewart, though both claimed they were straight.
The 2003 ESPN drama Playmakers, based on a professional football team, included a key storyline in which a closeted player living a double life was forced to fake an injury and leave the team when rumors of his sexuality began to publicly leak; the show was reportedly canceled due to pressure from the NFL.