Exclusive
EXCLUSIVE NEW AUDIO: Mel Gibson Admits Hitting Oksana, Threatens To Kill Her - Listen To It Here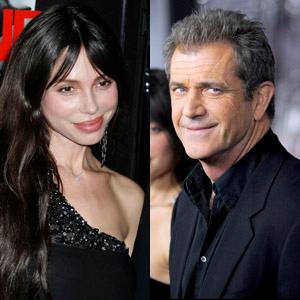 WARNING: This audio may not be reproduced or republished.
Mel Gibson, under investigation for domestic violence, admits to hitting Oksana Grigorieva and TWICE threatens to kill her in an explosive new audio tape obtained and released exclusively by RadarOnline.com.
The enraged actor tells the mother of his eight-month old daughter Lucia "you deserved it" after she says that he hit her and broke her teeth.
Article continues below advertisement
TRUE OR FALSE? Kim Kardashian's Plastic Surgery Rumors!
Mel's stunning admission could be a powerful piece of evidence against him in the criminal investigation that is headed for the district attorney's office and right now being conducted by the L.A. County Sherriff's Department.
The new tape features a ranting, out-of-control, Mel who screams and is so enraged at times that all he can do is pant heavily, seemingly incapable of speaking. It is one of the most powerful, crazed and bizarre episodes ever caught on tape from a major Hollywood star. You can listen to the tape here exclusively on RadarOnline.com.
Article continues below advertisement
Later on the tape, Mel alludes to killing and burying her. As the former couple's argument grows worse and worse Oksana tells Mel: "You're gonna answer one day, boy, you're gonna answer."
Infuriated, Mel asks if she is threatening him, and Oksana says she is not. "I'm not the one to threaten," the Russian-born beauty says.
And that's when Mel makes what certainly can be reasonably interpreted as another death threat, telling Oksana: "Threaten ya? I'll put you in a f *ckin rose garden you c*nt! You understand that? Because I'm capable of it. You understand that?"
Oksana filed a complaint with law enforcement on July 5 triggering a domestic violence investigation of Mel. RadarOnline.com learned that Oksana said she taped Mel because he made death threats against her and she feared for her life. At one point, on another section of tape not played here, Mel threatens to burn down her house.
The new tape obtained exclusively by RadarOnline.com has Mel admitting that he punched Oksana, confirming our earlier report that she has told friends he knocked out her front teeth.
Article continues below advertisement
Here is the key piece of dialogue:
Oksana: What kind of a man is that? Hitting a woman when she's holding a child in her hands? Breaking her teeth twice in the face! What kind of man is that?
Mel: Oh, you're all angry now! You know what, you f* cking deserved it!
As RadarOnline.com reported Oksana filed a restraining order under seal against Mel last month. In May they went through two days of arbitration to work out the terms of their separation. But Mel became infuriated when she would not let him see their daughter on Father's day.
RadarOnline.com was first to report that he has also filed orders under seal that restrain Oksana.
Mel's lawyers are now claiming that Oksana tried to extort him for more money in their settlement.
PHOTOS: Mel & Oksana Go Public For First Time
On this tape, Mel says he will no longer pay money toward Oksana's music career and she answers: "I don't give a damn if you don't spend another penny on me.
"I don't care I am just fearing for the life of my daughter."
MORE ON:
Oksana Grigorieva
Article continues below advertisement
Mel accuses her of leaving him when he stopped spending money but Oksana answers: "Because I am saving my life and I'm saving my daughter's life! I don't give a damn about my music and I don't give a damn about you spending another penny! I'm saving her life! You almost killed us, did you forget?"
On July 9, RadarOnline.com released audio of Mel's vile racist rant. He is heard telling Oksana: "You look like a f*cking bitch in heat. And if you get raped by a pack of ni**ers it will be your fault. Alright? Because you provoked it."
Shortly after the release of our tape, it was revealed that the William Morris agency dropped Gibson as a client.
Now many are wondering if his career can survive and the new tapes may indicate even bigger problems are directly ahead for the actor, as his threats against Oksana and admission of hitting her may be enough basis for criminal charges.
The Braveheart star is so worked up at times on this tape that he is huffing and puffing, out of breath and in what appears to be a full blown emotional crisis.
Article continues below advertisement
Oksana, by contrast, remains calm for most of the tape, but at times she shows more emotion, telling Mel, "you need medication."
She also tells Mel that she will call the police as he gets more abusive and that sets him into another rage as he screams: "You're in my house honey."
Mel and Oksana's romantic relationship was revealed exclusively by RadarOnline.com after we obtained photos of them hugging on a beach in Costa Rica. Mel's wife Robyn filed for diovrce shortly after the photos became public.
The new tape offers a brief but interesting glimpse about the end of Mel's marriage. At one point he tells Oksana: "I left my wife because we had no spiritual common ground."
The tape was made earlier this year, after January 6 when Oksana has said Mel punched her in the face while she held their daughter. Mel and Oksana's relationship has unraveled by this point and he rails against her, saying that she doesn't love him and has used him financially.
Article continues below advertisement
EXCLUSIVE VIDEO: Mel & Oksana Talk To RadarOnline.com In Happier Times
At one point he alludes that he has quit smoking and says that her behavior wants to make him smoke again. But the rest of the conversation is far more intense with Mel trying to express he has done everything possible for Oksana and received nothing in return.
He screams at Oksana: "You don't have any f*ucking friends except me, and you treat me like shi*! So that's why I'm so fucking angry, because I don't have any friends! And I try and make one from you and you treat me like shit and you fucking used me!"