Drunk & Sloppy Brandi Glanville 'Needs Help,' Says Recovering Alcoholic Kim Richards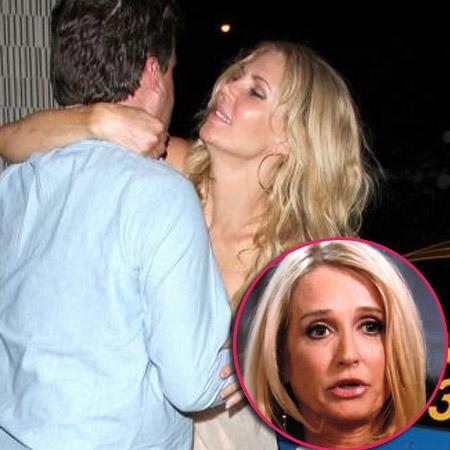 Article continues below advertisement
Brandi, who came under fire for her racist remarks, tried to explain that Yolanda and Kyle should resolve their issues, but Kyle left the table in tears.
Unexpectedly, Yolanda wound up comforting her.
"Yolanda your problems are bigger than mine. You've been sick," Kyle wept.
"Please don't cry," Yolanda, who is battling Lyme disease, said while hugging her co-star. "Let's move forward."
"I'm battling for my life… not Kim and Kyle and their little antics," Yolanda told the cameras.
The tone turns lighter, as the women talk about going skinny-dipping, with tipsy Brandi gushing about Carlton Gebbia's "sexy" body. And the feeling is mutual.
"Brandi is a turn on. She's sexy and passionate. I like her a lot," Carlton gushed.
After dinner, Brandi and Carlton stumbled back to their room to get more alcohol. Slurring her words, Brandi guzzled a bottle of white wine, but Lisa Vanderpump pulled it away from her.
Article continues below advertisement
The next morning, Brandi explained her drunken behavior.
"Sometimes you're on vacation and want to have a little more fun," she told Yolanda. "I was fine... I'm a big girl."
When Lisa admitted that she sometimes treated Brandi like a child, Eddie Cibrian's ex retorted: "I don't have a drinking problem. I have a drinking solution."
Later in the afternoon, Carlton confronted Brandi about bringing up their hot make out session.
"She probably won't be the first girl I kiss and probably won't be the last, but my problem is that I decide who I share that information with," Carlton vented to the cameras.
"I'm very sorry," Brandi apologized. "I probably shouldn't have said that, and I'm sorry."
Although everyone in the house appeared to finally be getting along, the drama was far from over.
After dinner, Brandi learned her beloved dog, Chica, had gone missing.
Article continues below advertisement
"Your house was broken into," Brandi's assistant Cameron – who was later fired – explained on the phone, after dealing with the police.
"Both of the dogs were on the couch in the living room when I left," Cameron explained. "But now we can't find Chica."
Brandi quickly imploded into an epic meltdown.
"What the f—k are you talking about?!" Brandi screamed. "This is the second time this has happened on your clock. You understand that this is going to break my children's heart."
When Brandi said she needed to go home, Joyce tried to weigh in: "I lost a dog before…"
"This isn't a competition Joyce. Why does it always have to be about you?" Brandi scolded her co-star, adding that the beauty queen "doesn't know when to shut the f—k up."
Joyce apologized and said she just wanted to give her co-star a hug – but Brandi stormed off.
"I need my dog back. This is not OK. This is not OK! This is NOT OK," Brandi cried uncontrollably to her assistant.
"I don't know what to do. The kids are going to be devastated," Brandi said before hopping in a car home.
"I'm coming home to get my f—king dog."
Reflecting on the night's drama, Kyle explained Brandi's dilemma.
"When her kids are with their father, these dogs are her children, so it feels like a bigger loss to her," she sympathized.
The Real Housewives of Beverly Hills drama continues next Monday at 8/7c on Bravo.