Cissy Houston: Whitney Knew Better Than To Do Drugs, Doesn't Blame Bobby Brown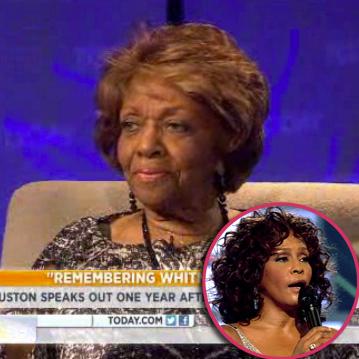 Cissy Houston is speaking out about the shocking death of her superstar daughter Whitney on the night before the 2012 Grammy Awards nearly one year ago, saying the iconic singer knew better than to do drugs, while adding that she does not blame her ex-husband Bobby Brown, although she later interjected that "marrying him wasn't the greatest idea in the world."
Cissy – appearing in two separate interviews on Tuesday's TODAY show to promote her new book, Remembering Whitney: My Story of Love, Loss, and the Night the Music Stopped – first told Savannah Guthrie: "Good mothers and good fathers and good families don't always have great children.
Article continues below advertisement
"Bad people have good children. ... It's all their responsibility when they get to a certain age to choose their way," she continued. "She was taught, she knew the way."
Cissy, 79, clearly felt -- and still feels -- a lot of love for daughter, saying, "she and I were very, very close. She knew I loved her."
Still, in speaking with Guthrie, she didn't want to cast blame on Houston's famously troubled marriage to singer Bobby Brown.
"I don't know too much about Bobby Brown," she said when asked about him. "I don't want to talk about him. ... I know he didn't help her. I don't blame him. ... Everybody is responsible for their own actions up to a point. She was raised, she knew better, and whatever took her to that position, I really don't know."
Visit NBCNews.com for breaking news, world news, and news about the economy
Later, in a separate interview with TODAY's Al Roker, Cissy seemed to take a somewhat harsher tone, saying marrying Brown "wasn't the greatest idea in the world" and that "he did hurt her in a lot of ways. ... She was in love, I guess."
Article continues below advertisement
Cissy also suggested to Roker there may be multiple reasons for why Whitney plunged into drug abuse, including the confusing world of the music business, being called "Whitey" early on, and then the marriage to Brown.
"She was giving and loving ... just didn't like confusion; she turned away from that as much as she could," Cissy told Roker, adding that "I really do" believe that's what led to her drug use.
Cissy also said she will never fully get over the loss of her daughter, even though, perhaps surprisingly, she said she doesn't necessary think Whitney went before her time.
"I miss her so much I can't even express it," she said.
"I trust in God. His ways are not our ways so we have to go with that and there's nothing I can do about it."
Houston was found dead in a bathtub in the Beverly Hilton Hotel on February 11 - the night before the 2012 Grammy Awards.
An autopsy later showed she died from accidental drowning, heart failure and cocaine use. She was 48.
Cissy's book, Remembering Whitney: My Story of Love, Loss, and the Night the Music Stopped, is now available in stores and online.
Visit NBCNews.com for breaking news, world news, and news about the economy