Chelsea Handler Mocks Taylor Swift, Says She's A Virgin Who Won't 'Do It' With Her Famous Boyfriends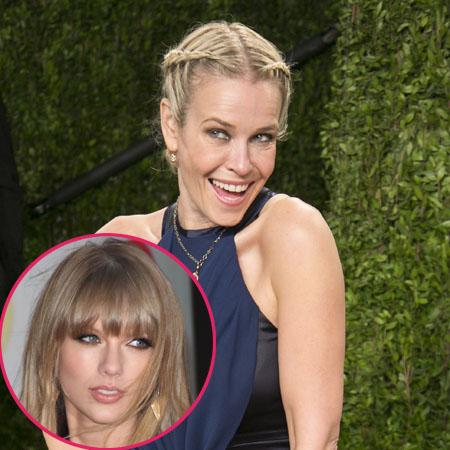 Chelsea Handler, appearing on Watch What Happens Live, has a theory about Taylor Swift's carousel of high-profile, short-term relationships.
"My theory about Taylor Swift is that she's a virgin," the controversial comic, 38, told Andy Cohen earlier this week, "That everyone breaks up with her because they date her for two weeks and she's like, 'I'm not gonna do it.' And they're like, 'Oh, well, forget it. Then I don't want to date you.'"
Article continues below advertisement
She said that the A-list slew of celebs that 23-year-old Taylor has dated -- including hunks such as Harry Styles, Conor Kennedy, John Mayer, Jake Gyllenhaal, Joe Jonas, Taylor Lautner and Cory Monteith -- all get discouraged when their considerable charms aren't enough to woo the chaste country singer into the sack.
"Every guy thinks they're going to devirginize her, and they're not," Handler said. "She's never going to get devirginized, ever, ever, ever, ever."
Cohen asked Handler her reaction to the We Are Never Getting Back Together singer's stiff response to Tina Fey's and Amy Poehler's jokes at her expense at the Golden Globes, when she quoted Katie Couric, telling Vanity Fair that "there's a special place in hell for women who don't help other women."
Watch the video on RadarOnline.com
"I think that was a bold statement, but I'm not on anyone's side because I just don't care enough," Handler said. "I like that she's being that vociferous about something that she thinks they were out to get her. They were clearly making a joke just about her demeanor, which is embarrassing.
"I mean, she's just dated so many men."