Surprise! New Jersey Teen Who Sued Parents Moves Back Home With Her Folks -- But Controversy Swirls Around Lawsuit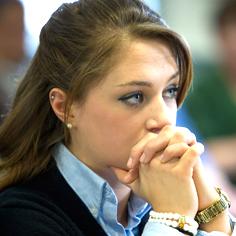 Rachel Canning, the New Jersey cheerleader who made headlines in asking a court to order her estranged parents Sean and Elizabeth Canning to pay $654 a week in child support, has returned home and "reunited with her parents and siblings," according to her parents' lawyer, Angelo Sarno.
Sarno said that the media circus that developed as result of the unusual case -- after the cheerleader moved out Oct. 30 amidst a series of spats with her elders -- spurred an invasive "reality TV" element neither Canning or her folks wanted to experience any further.
Article continues below advertisement
"They're not athletes, they 're not actors -- they didn't ask for any of this," the attorney said in a news conference. "Everyone should be happy today, this is a happy situation."
Sarno said that the Morris Catholic High School senior's conflict with her parents -- based on coming-of-age dilemmas such as boyfriends and behavior -- are "ancient history," and that "her return home is not contingent on any financial and/or other considerations."
Watch the video on RadarOnline.com
Despite Sarno's reassuring, the situation, legally, remains far from resolved, as Canning's attorney Tanya Helfand on Wednesday filed legal docs claiming that the teen has been under duress from her parents to lose the lawsuit.
"Just a few days ago Rachel Canning indicated that she could not go back home with her parents and she required a promise of some financial assistance going forward," Helfand wrote in the emergency petition. "Now, after speaking with her mother yesterday, she said she is waiving her complaint and is receiving no promises or consideration in return. The court did not determine if she is emancipated or not.
"A psychologist certified that the parents are abusive. School faculty certified that the parents abused the child."
Judge Peter Bogaard, who previously said the teen's claims could lead to a "potentially slippery slope" in future cases, denied Helfand's request.
The case, which remains on the court docket, is slated to return before the judge Apr. 22.
Stay with Radar for more on this story.